Russia wants Hyperloop for super-fast transport in Far East, seeks Chinese funds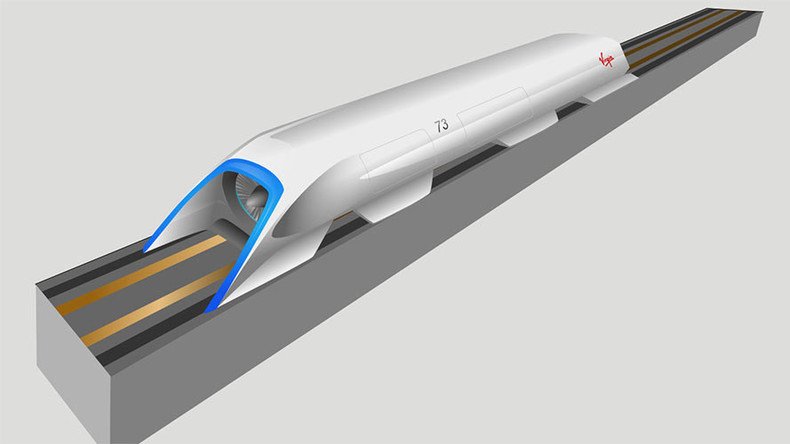 Russia's Ministry of Transport has proposed using Hyperloop technology along a 70-kilometer (43.4-mile) strip of Russia's first super high-speed transport system. The ministry's head is also seeking to get Chinese investors involved to fund the project.
"I have already held talks with Hyperloop company and its management. We have suggested the investors consider the construction project of the zone within the [international transport] corridor 'Primorye-2' in the Far East, with access, across the border with China, to the port of Zarubino," Russia's Minister of Transport, Maksim Sokolov, told NTV channel on the sidelines of the Saint Petersburg International Economic Forum (SPIEF).
The section would cover 70 kilometers of the developing Primorye-2 corridor, which connects China's Jilin province and harbors in Russia's Far East Region.
The Hyperloop was first proposed in 2013 by US billionaire Elon Musk as an up-to-date open-sourced concept. Based on long-standing, but previously unviable ideas, the system would transport people and goods in capsules through a global network of pneumatic tubes at speeds up to 1280 kilometers per hour (800 mph). In May, Russian Railways said it was considering using a Hyperloop for transporting freight.
It was not immediately clear if Sokolov was negotiating with Hyperloop One, one of the leading companies developing Musk's concept. The Los Angeles-based firm tested their first prototype in May. The minister had previously noted that a similar project is being developed in Russia.
According to Sokolov, building the super-fast Hyperloop will be cheaper than laying a regular railway network. The project's cost has been estimated at between 30 to 40 billion rubles ($455.4-607.2 million).
However, the ministry hopes that China will make a significant investment in the construction.
"The Russia-China intergovernmental council will convene in a month. I will suggest that my counterpart consider this project, in particular, in terms of investments," Sokolov told journalists. "Especially because we have a fund to support the Silk Road projects [which is aimed at connecting China with European and Middle Eastern markets], I believe that this project may count on 100% co-financing from this fund."
China, Russia's second-biggest trading partner after the EU, has agreed to construct a 770-kilometer high-speed rail link that would connect Moscow with the city of Kazan, the capital of Russia's Republic of Tatarstan. It would reduce the journey between the two cities from 12 hours to just 3.5 hours.
READ MORE: Russia-China trade up almost 10% in May

Beijing has expressed readiness to provide a $6 billion loan for the Moscow-Kazan high-speed rail line. Its overall cost is expected to exceed $15 billion dollars. The transportation minister told NTV that work may begin in 2017.
In 2013, Elon Musk estimated that a Hyperloop route between Los Angeles and San Francisco would cost $6-7.5 billion to construct, while expecting it to have a $20 one-way ticket price. Musk's high-speed system would reduce travel time between the two cities to just 30 minutes, instead of six hours by car or a one-hour flight.
Hyperloop One successfully made a test run in North Las Vegas, where a bare-metal sled rocketed down a half-mile track at 330 miles per hour in an open air propulsion test.
You can share this story on social media: