0 to 400mph in 2 seconds? Russian Railways eyes supersonic Hyperloop technology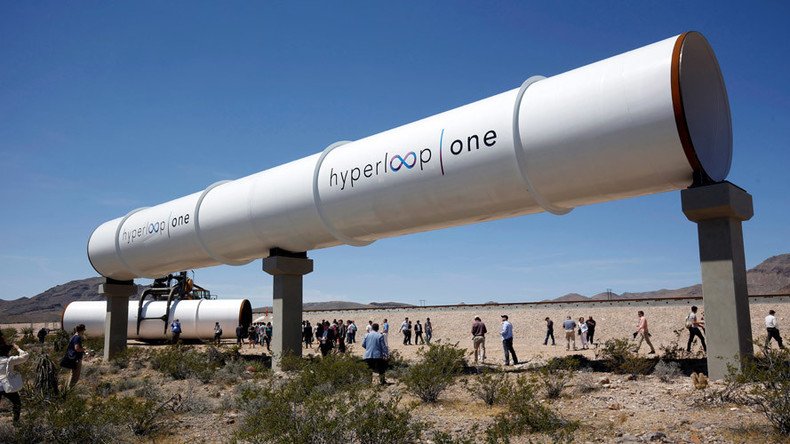 Russian Railways is considering using super-fast Hyperloop technology, particularly for transporting freight. According to RIA Novosti, Russian Railways and Hyperloop One are discussing possible cooperation.
"We, as a large global company, are, of course, interested in the advanced innovative technologies. Our specialists are in a working group with Hyperloop One to study its technology. Russian Railways is, in particular, interested in the application of Hyperloop One in cargo transportation. However, it's early to make any conclusions," the Russian company said in a statement.
Based on an idea first put forward by billionaire Elon Musk in 2013, the open-source Hyperloop technology is being developed by a number of companies, university students and independent engineers. The technology intends to transport people and goods in capsules through a global network of tubes at speeds up to 800mph (1280kph).
In 2013, Musk estimated the Los Angeles to San Francisco route would cost $6-7.5 billion to construct and expected it to have a $20 one-way ticket price.
Using extremely low air pressure, Hyperloop will be able to transport passengers from Los Angeles to San Francisco in about 35 minutes. Now, the trip takes an hour by plane, five and a half hours driving, seven hours by bus, and 12 hours by train.
Last week, Hyperloop successfully made a test run in North Las Vegas. A bare-metal sled rocketed down a half-mile track at 330mph in an open air propulsion test.
The run was only two seconds, but the developers said it's enough. "This is about validating the hardware and software. We're aiming to hit 400 mph in two seconds," said Hyperloop One cofounder and chief technology officer Brogan BamBrogan last week.
Critics of Hyperloop say the invention will be too expensive to apply it for widespread use. MIT scientists working on it said there's no problem with reaching the aimed speed, but there's a challenge with slowing down.
You can share this story on social media: