IMF allows lending to countries with arrears; Russia prepares to go to court over Ukraine debt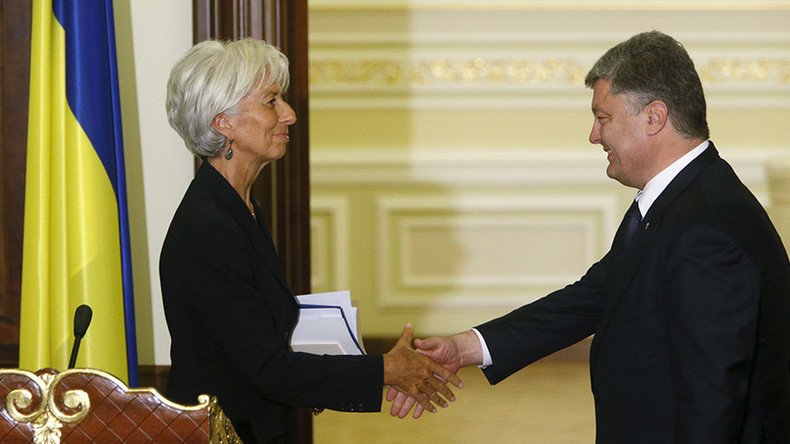 The International Monetary Fund has agreed to change its policy on lending to countries that are in arrears to other governments. With Ukraine being among the states that asks for financial aid while owing Russia, the move has angered Moscow.
"The IMF's Executive Board met today and agreed to change the current policy on non-toleration of arrears to official creditors," according to the IMF's Chief Spokesman Gerry Rice statement emailed to RT on Tuesday. "Details on the scope and rationale for this policy change" will be provided later, it added.
Previous IMF guidelines on lending to such states were relatively strict, stating that "the IMF doesn't lend to countries that are not making a good-faith effort to eliminate their arrears with creditors."
Ukraine is among such owing countries, having a $3 billion debt to Russia, with Kiev being on course to miss the end-of-the-year deadline to repay it. Going by the old rules, that would jeopardize IMF bailout to Kiev.

READ MORE: Kiev doesn't rule out default on Russian debt
The IMF decision to change its lending policies has been made "in prejudice of Russia and to legalize Kiev's capacities not to pay its debts," Russia's Finance Minister Andrey Siluanov told journalists on Tuesday, as cited by Interfax. Siluanov called the decision "precipitated and preconceived."
Russia has addressed the IMF to help solve the situation with Ukraine's debt, but was told to "engage with negotiations [with Kiev] alongside commercial creditors," Siluanov said.

READ MORE: US won't guarantee Ukraine's debt, Russia to sue if Kiev doesn't pay up by late December
"It's not a constructive dialogue, circle has been closed. In such conditions we have no other choice but to use all possibilities to protect our rights as a creditor. We are preparing documents to go to court," the finance minister said.
Ukraine's sovereign debt to Russia dates back to a deal between President Vladimir Putin and former Ukrainian President Viktor Yanukovich that was struck in 2013 and envisaged Moscow buying $15 billion worth of Ukrainian bonds. Russia bought $3 billion worth in December 20, 2013, and the debt is supposed to be repaid by December 20, 2015. In November, Russian President Vladimir Putin offered Kiev a three-year installment plan to pay back, but no official answer to the proposal has been received.
The IMF was never that tolerant when EU members got into financial trouble as they are towards Ukraine – the country "with one of the worst economic conditions in the world right now," economist Jack Rasmus told RT.
"It's interesting, the contrast there with IMF's behavior this past year with regard to Greece which is an EU country, when they made Greece make its payments before they would release any additional funds... Ukraine is in the depression and it's about to default, and they are coming up with tens of billions of dollars more just to keep Ukraine floating," Rasmus said.
You can share this story on social media: