Biden urges Ukraine to fight 'cancer-like' corruption or lose international financial aid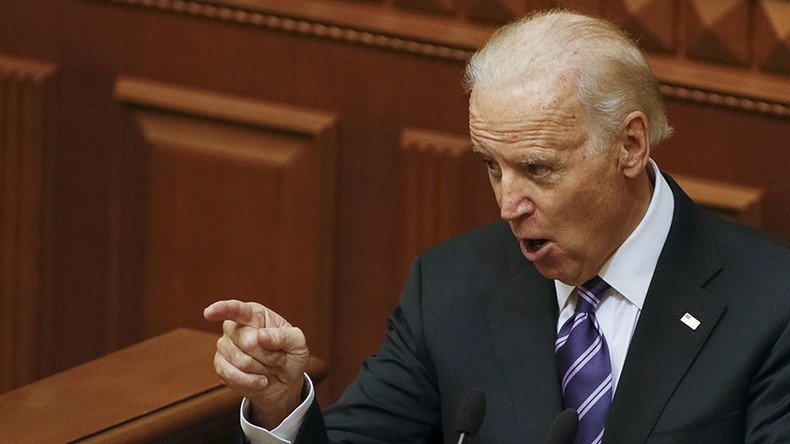 Kiev must do more in fighting corruption which "eats Ukraine like cancer." US Vice President Joe Biden said in a speech delivered in Ukrainian parliament. If there is no control of corruption in Ukraine, financial help is out of the question, he warned.
US Vice President Joe Biden, who is on a two-day visit to Ukraine, has urged Kiev to conduct painful yet crucial reforms to battle corruption. Biden's emotional speech in Ukrainian parliament could as well become the last warning for country's political elites unwilling to embrace escalated reforms.
"Corruption siphons off resources. We know this. You know this," Biden told Ukrainian MPs.
Ukraine needs to make governance more transparent, an immediate measure since "corruption eats Ukraine like cancer," Biden said on Sunday, noting that however painful the looming reforms could be, they cannot be any backsliding on the issue.
"We saw oligarchs ousted from power, only for them to return," Biden said. "We understand how difficult some of the votes for reforms are but they are critical for putting Ukraine back on the right path," Biden said, as cited by ABC.
"As long as you continue to make progress in fighting corruption and build a future of opportunity for all Ukraine, the US will stand with you," US Vice President said.
On the first day of his visit Biden assured Kiev of the US support and announced allocation of additional $190 million from the US budget to help conduct structural reforms in Ukraine and fight corruption in the first place.
Ukraine's former president, Viktor Yanukovych, had to flee the country in February 2014, following months of anti-government protests in Kiev and other cities, to a large extent fueled by rampant corruption.
Despite the great fanfare that came with the introduction of new reforms to improve standards of living and stem corruption, President Petro Poroshenko, who was elected in May 2014, has not achieved the goals. A recent poll by the Yaremenko Ukrainian Institute for Social Research showed that 72 percent of those asked do not believe Ukraine is heading in the right direction, saying either the reform process is moving too slowly or not at all.
Ahead of Joe Biden's speech in the parliament, American politician hold meetings with Ukrainian President Petro Poroshenko, Prime Minister Arseniy Yatsenyuk and Kiev Mayor Vitaliy Klichko.
You can share this story on social media: