ExxonMobil Q2 profit plunge 52% to $4.2bn, worst in 6yrs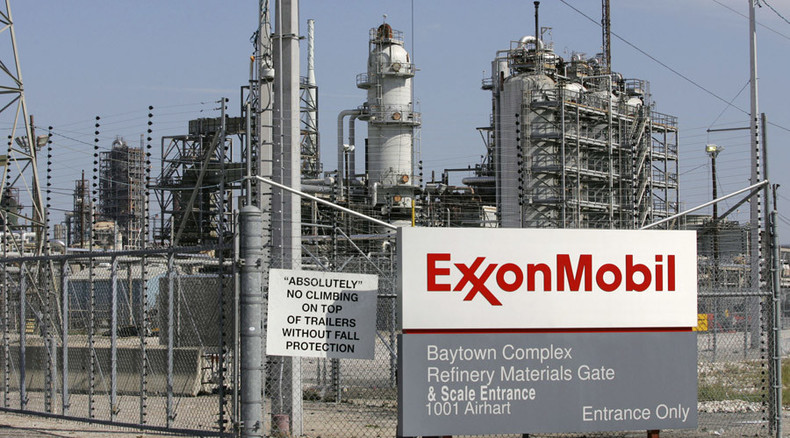 ExxonMobil second-quarter earnings have more than halved from $8.8 billion a year earlier, the company reported on Friday. The lower-than-expected result is Exxon's worst since 2009, and is due to plunging oil prices.
"Our quarterly results reflect the disparate impacts of the current commodity price environment, but also demonstrate the strength of our sound operations, superior project execution capabilities, as well as continued discipline in capital and expense management," said an ExxonMobil statement issued Friday.
The company had a profit of $1 per share compared with $2.05 a year earlier, while Wall Street analysts expected a profit of $1.11 per share.
READ MORE:Oil slump leads to $200bn cut in new energy projects - study

Upstream or exploration and production business profit, plunged 74 percent to $2.03 billion. Production improved 3.6 percent to 4 million oil-equivalent barrels per day, according to the statement.
Chemical earnings were higher by 48 percent than in the second quarter of 2014 at $1.2 billion.
Corporate and financing expenses were $593 million for the second quarter of 2015, down $60 million from the previous year's result, the company said.
READ MORE: BP profits slump, as cheaper oil & spill settlement weigh
Capital spending fell to $8.26 billion from $9.8 billion a year earlier.
Exxon reduced spending on major projects like floating crude platforms and gas export terminals by 20 percent to $6.746 billion during the quarter.
Other oil majors could not escape the carnage. Earlier this week, BP reported an almost 64 percent drop in its quarterly profits, while Shell announced Thursday it's cutting 6,500 jobs and reducing capital spending by 20 percent this year. All of them blamed the oil price collapse.
The companies are also among energy majors that have put off $200 billion in spending on 46 major oil and gas projects as a result of the price slump.
Crude fell to near four-month lows this week after a better than 30 percent rebound in the first quarter of 2015.
Brent crude for September in Friday trading was down 51 cents at $52.80 a barrel. West Texas Intermediate (WTI) lost 70 cents at $47.82.