Russian currency edges closer to 60 against dollar, as oil slump deepens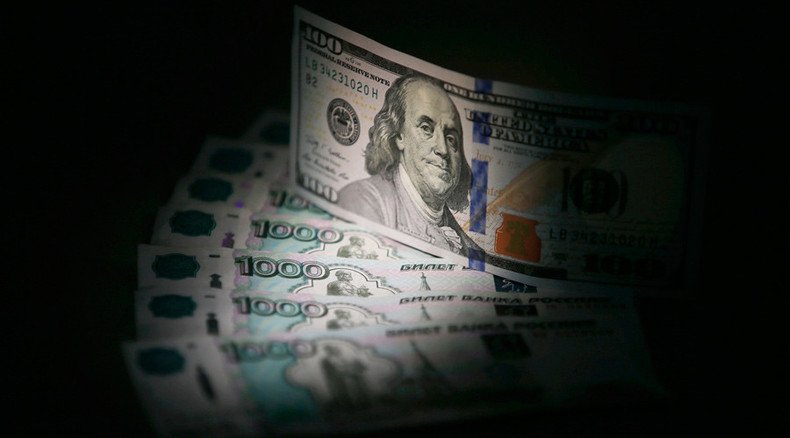 The Russian ruble has plunged to 59.7 against the US dollar at 13:50 MSK on the Moscow Exchange and to 66 against the euro, four-month lows.
By the close of the main trading session in Moscow the ruble slump against the dollar soothed, with the currency standing at 59.4 at 19:00 MSK.
The Russian currency continued to follow oil's route on Monday as Brent crude fell to $53.75 a barrel and the WTI was down at $47.6 a barrel.
READ MORE: Ruble follows oil's route, touches 4-mth low
"The ruble's movement is taking place in sync with the oil prices' slump, but there's also a seasonal factor that has a certain pressure on the ruble. The latter includes the repatriation of dividends, increased payments on foreign debt," said the chief analyst at the investment department of VTB 24 bank, Stanislav Kleshev.
Oh, I think Ruble will be falling next week: - FED killer on Wednesday. - No cut from the Central Bank on Friday. https://t.co/L70Tiq9pg4

— Russian Market (@russian_market) July 26, 2015
READ MORE: Russia cuts key rate to 11.5%, as inflation fears ease
Among the key ruble rate drivers expected this week are the meeting of Central Banks in the US and in Russia. On Wednesday the Fed's head Janet Yellen is expected to give another hint at when the interest rate, which now stands at record low of 0.25 percent, will be increased. The Central Bank of Russia will make an announcement on the key rate on Friday, July 31.
You can share this story on social media: