Russia cuts key rate to 11.5%, as inflation fears ease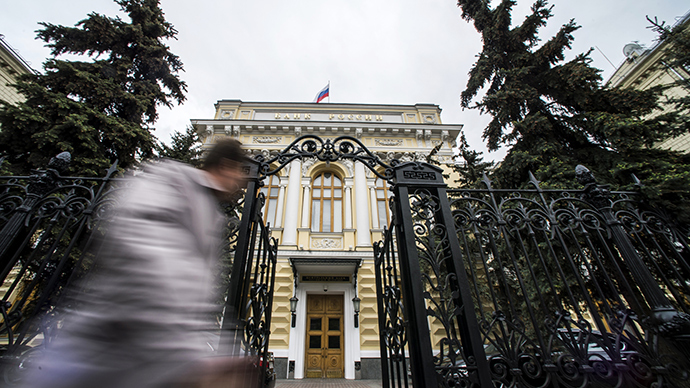 The Central Bank of Russia (CBR) has cut the key interest rate by 100 basis points to 11.5 percent, saying inflation risks have weakened as the economy is cooling. The CBR hopes to reach its target of 4 percent inflation by 2017.
"Amid significant contraction in consumer demand and ruble appreciation in February-May 2015, consumer price growth continued to slow down. According to the Bank of Russia forecast, given these factors annual inflation will fall to less than 7% in June 2016 to reach the target of 4% in 2017," the bank said in a statement Monday.
The CBR added that it was ready to continue cutting the rate, but the scale of the cut will depend on inflation in the coming months.
Inflation in Russia has been steadily falling since reaching its peak in March. In April it stood at 16.4 percent and in May at 15.8 percent. As of June 8, the annual rate was 15.6 percent with weekly inflation stabilizing at about 0.1 percent in May-early June, said the regulator.
READ MORE: Russian regulator acting 'adequately' as economy stabilizes – IMF
Lower interest rate means cheaper loans for businesses in Russia, which could then boost economic activity in the country.
The CBR said it expected GDP to contract by 3.2 percent in 2015. Longer range economic growth will depend on energy prices and the economy's capacity to adjust to external shocks, the regulator said. If oil prices recover to $70 per barrel by late 2016, GDP will grow by 0.7 percent next year. Should prices remain at $60 per barrel GDP will contract by 1.2 percent.
READ MORE: Russian Central Bank cuts key rate to 12.5%, cites risks of economic cooling
Monday decision marks the fourth consecutive rate cut this year, which proves the regulator sees the inflation danger fading and the ruble having found its fair value.
In April the ruble was the world's best performing currency of 2015. At its peak it was trading at about 49 to the dollar, but has seen an 11 percent downturn since then. The continued fighting in Ukraine and OPEC'sdecision not to cut crude output are the key factors.
Last week the weekly inflation rate in Russia reached zero, the first time since early August 2014.
On December 16, the Russian Central Bank hiked the key interest rate to 17 percent in an attempt to halt the ruble depreciation. The first reaction saw the currency lose more than 20 percent, with one dollar buying 80 rubles on the day. However, the ruble has significantly recovered this year, trading at about 55 against the greenback on Monday on the Moscow Exchange.
You can share this story on social media: