Ruble plummets losing more than 20% in a day, hitting new dollar and euro lows
No end seems to be in sight for the plight of the Russian ruble, which slumped to new record lows against hard currencies Tuesday. The ruble traded at 99.5 against the EUR, and at 79 to the USD.
Russian stock market also went awry, dropping more than 15 percent as of 2:30pm Moscow time, after dropping by 11 percent the day before. Sberbank, the country's largest lender, lost 17.77 percent and VTB, the second largest bank, fell to 14.29 percent. State-owned oil and gas compaies Gazprom, Rosneft and Surgut all saw stocks dip.
The Central Bank's emergency interest rate hike of 17 percent failed to stop the ruble's slide against hard currencies, only temporarily calming the ruble's sharp decline.
READ MORE: Russian Central Bank hikes key interest rate to 17% to halt ruble roil
The ruble has been falling in tandem with crashing oil prices, a problem compounded by the fact that investors have been pulling capital out of Russia over geopolitical tensions since the beginning of the year. The US and EU have both levied sanctions against the Russian economy, essentially cutting off Moscow from Western lending.
Most analysts agree that Russia will enter a recession in the first quarter of 2015, including Economy Minister Aleksey Ulyukayev, as well as the Central Bank.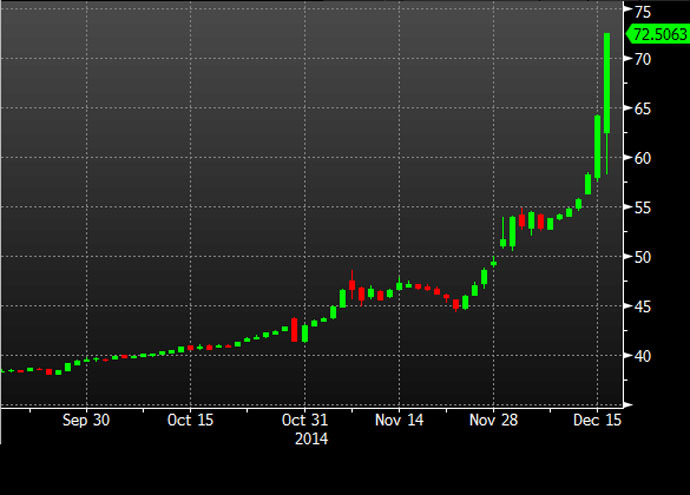 On Tuesday, Central Bank chief Elvira Nabiullina said that higher rate should put an end to the ruble's volatility, and is a better reflection of the economic situation in Russia.
"We must learn to live in a new reality, to focus more on our own resources to finance projects of import substitution and give a chance," Nabiullina said in a televised address on Tuesday.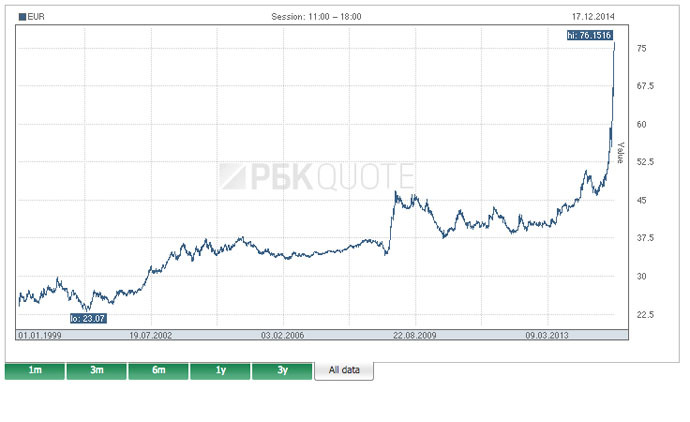 The Russian currency has lost more than 55 percent against the dollar this year, mainly due to external factors such as the sharp drop in oil and sanctions.
You can share this story on social media: