Russian Central Bank hikes key interest rate to 17% to halt ruble roil
The Central Bank of Russia has increased its key interest rate to 17 percent in order to curb the inflation risks and rapid devaluation of the national currency, which hit a historic low of 64 rubles against the US dollar in Monday evening trading.
"The Bank of Russia Board of Directors decided to raise the Bank of Russia key rate to 17.00 percent per annum. This decision is aimed at limiting substantially increased ruble depreciation risks and inflation risks," the Central Bank said in a statement on Monday night.
Raising interest rates, as a macroeconomic tool generally curbs inflation.
The decision followed a 10 percent drop in the value of Russia's ruble on Monday, the biggest intraday drop since 1999. After the hike, the ruble strengthened 11 percent settling closer to 60 per USD and 67 against the euro, bringing its total year-to-date loss to more than 50 percent.
READ MORE: Russian equities in worst slide in 5 years
On Tuesday, in an effort to fortify monetary policy loans, the bank is offering to provide a floating interest rate set at the key rate level increased by 1.75 percentage points, according to the statement.
The Central Bank is also making an effort for companies to manage their foreign liquidity.
"For further expanse of credit institution ability to manage their foreign exchange liquidity it was decided to increase the maximum allotment amount for 28-day FX REPO auctions from 1.5 to 5.0 billion USD and to conduct 12-month FX REPO auctions on weekly basis," the Central Bank said.
The interest rate hike is the sharpest since the 1998 crisis, which saw rates higher than 100 percent. Russia defaulted on their debt in 1998.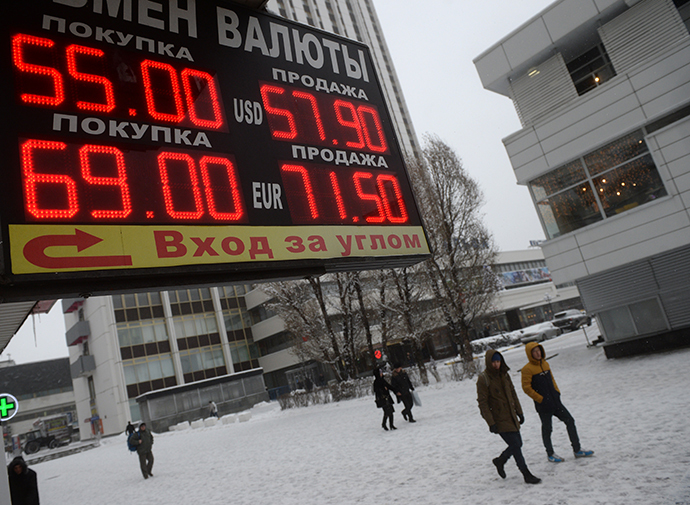 Last Thursday, Russia increased its rate from eight percent to 10.5 percent to combat inflation, which is projected to hit 10 percent in 2014. This marked the sixth time this year that the interest rate was spiked.
READ MORE: Russian central bank hikes key interest rate to 10.5% to combat inflation, plunging ruble
Stocks on the Moscow Exchange roiled lowest levels in five years. The dollar-based RTS index fell to 744.52 points and the ruble-denominated MICEX fell to 1392 in early Tuesday morning trading.
Bank governors held their last official meeting of 2014 on December 11, and will officially reconvene after the Russian New Year holidays in January.
The bank only sees a chance of recovery in economy activity in 2017. It has revised its 2014 growth forecast to 0.6 percent. Other forecasts show Russia slipping into recession in the first quarter of the 2015. Though the currency is tanking with the price of oil and the economy is slowing, the Russian economy still has strong fundamentals, including $416 billion in foreign currency reserves.
You can share this story on social media: