Russian central bank hikes key interest rate to 10.5% to combat inflation, plunging ruble
The Russian Central Bank has increased borrowing costs to 10.5 percent to avoid a further rout of the ruble. The currency has lost more than 40 percent this year, and annual inflation is slated to reach 10 percent.
Rising inflation spurred the aggressive rate hike. The bank sees inflation hitting 10 percent for 2014. As of December 8, inflation stood at 9.4 percent, according to the Central Bank.
"Consumer prices continued to accelerate in November and the beginning of December. The increase in inflation and the expectation of devaluation creates a significant risk for inflation," the bank said in a statement, released Thursday.
The regulator increased the rate by 100 basis points, bringing this years' total increase to 500 basis points. At the beginning of the year the benchmark interest rate was 5.5 percent.
The bank's board met for the last time in 2014, and said that it will continue to raise interest rates to curb rising inflation.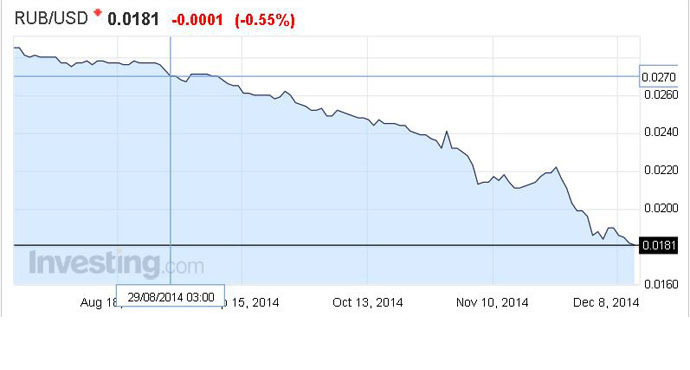 The bank only sees a chance of recovery in economy activity in 2017. It has revised its 2014 growth forecast to 0.6 percent.
Russia's slowed growth has been complicated by the fast slide of its currency, the ruble, which has lost more than 40 percent against major hard currencies this year. The ruble has so far reacted neutrally to the bank's decision, only dropping about 0.5 percent at 14:00 MSK, with the ruble trading 55 per USD and nearly 69 to the euro.
Bank Of #Russia Raises Interest Rates. Ups Key Rate By 100 Bps To 10.5%. Ruble little changed, now 55.13 pic.twitter.com/lFbxVzlNWQ

— Holger Zschaepitz (@Schuldensuehner) December 11, 2014
.
Even though Russia has the world's third largest foreign currency reserves at just over $418 billion, it is at a four-year low and $100 billion less than this time last year. The Ukraine crisis and massive capital outflow have forced the bank to spend over $70 billion to prop up the ruble this year.
'Close to zero growth'
In 2015-2016, the Central Bank forecasts close to zero annual growth, a major revision from just September, when it predicted economic growth of 1 percent in 2015 and 1.8-2 percent in 2016. However, this forecast was based on oil prices recovering to $100 per barrel. Brent crude is currently trading under $65 per barrel.
Low oil prices threaten the Russian economy, as revenue from oil and gas exports account for more than half of the country's budget. The Kremlin's 2015 draft budget assumed Russia' key Urals export blend at $100 per barrel, which has now been revised to $80 per barrel. The Brent price has lost more than 40 percent since its peak in June of $115.
The slowdown in the Russian economy is due to structural reasons, the bank said. Negative factors reducing economic activity include a low oil price, and Russia being cut off from western financial markets, as part of Western sanctions.
Russia's counter-sanctions banning agricultural imports have contributed to rising inflation, as well as increasing the competitiveness of Russian goods. Domestically, Russia faces labor shortages, which is stunting productivity.
'Ready with $85 billion'
Central Bank chief Elvira Nabiullina, who has been at the helm since June 2013, said the ruble is currently undervalued by 10-20 percent and in 2015 it will strengthen. At present, the exchange rate doesn't take into account 'agitation' such as low oil prices, she said.
"We have several models; we expect fluctuations from the base demand. According to our estimates, currently such fluctuations at the current oil price range from 10 to 20 percent," Nabiullina said, as quoted by TASS.
If oil prices continue to drag down the ruble, the Central Bank has $85 billion on hand to distribute to banks in 2015 in a so-called 'stress scenario', should oil prices remain at $60 per barrel.
You can share this story on social media: