Russia increased arms sales by 20% in 2013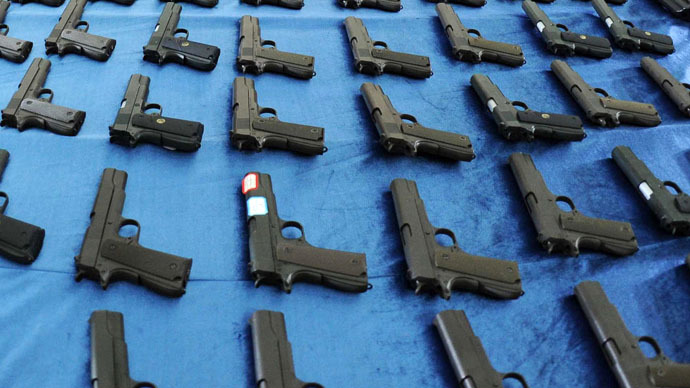 Russian arms producers increased sales by 20 percent in 2013, which offset a big drop among other industrialized countries such as the US and Canada, says a report from the Stockholm International Peace Research Institute (SIPRI).
Military sources in Russia suggest the real volume of arms sales is even bigger than SIPRI suggests, as the institution only uses information provided by open sources, Kommersant says.
An increase in Russian arms sales is seen to be due to uninterrupted government investment in military procurement aimed at modernizing national production, and bringing it on par with the world's leading producers, says SIPRI statement.
The Russian company with the largest increase in sales in 2013 is Tactical Missiles Corporation, with 118 percent growth, followed by Almaz-Antey with 34 percent, and United Aircraft Corporation at 20 percent.
Russian military experts do not expect any changes in this trend in 2014, but leave open the possibility for a drop in sales in 2015, due to the sanctions and cuts in military budgets, Kommersant reports.
READ MORE: Russia surpasses UK as third biggest defense spender – report
The SIPRI report points out a new category of defense contractors calling them 'emerging suppliers'. These are from countries located in the Global South, including Brazil, India, South Korea, Singapore and Turkey.
Although emerging arms suppliers' sales collectively represent only 3.6 percent of global sales, the growth of some in 2013 has been impressive. For example, sales by South Korea's Korean Aerospace Industries grew by 31 per cent in 2013, while Brazil's Embraer and Turkey's Aselsan continue to strengthen their positions after their first appearance in the 2011 rankings.
"These trends underline the modest yet continuing relative erosion of the domination of the US and Western European producers," says Dr Aude Fleurant, director of SIPRI's Arms and Military Expenditure Program.
The total volume of sales of the top 100 world companies amounted to $402 billion. This is 2 percent lower than a year earlier, when the volume of arms sales declined by 3.9 percent
The results of the research showed the picture varied in other countries. US and Canadian companies continue to see a moderate cut in sales. Italian and Spanish arms industries also face a decline. Britain remained at the same level and France has increased its sales.
A decline in US arms companies' sales was triggered by the withdrawal of military forces from Afghanistan and Iraq. The trend continued in 2013 with a decrease of 4.5 percent compared with sales in 2012. The number of US producers in the Top 100 is down from 42 companies in 2011 to 38 in 2013.
Meanwhile, Russia, along with 22 other countries is going to abstain from signing an Arms Trade Treaty that comes into effect on December 24, says Kommersant. The reason is that the treaty doesn't include the requirements to ban the supply of arms 'to unauthorized non-state actors' and to toughen regulations on the re-export of weapons.
You can share this story on social media: