Russia surpasses UK as third biggest defense spender – report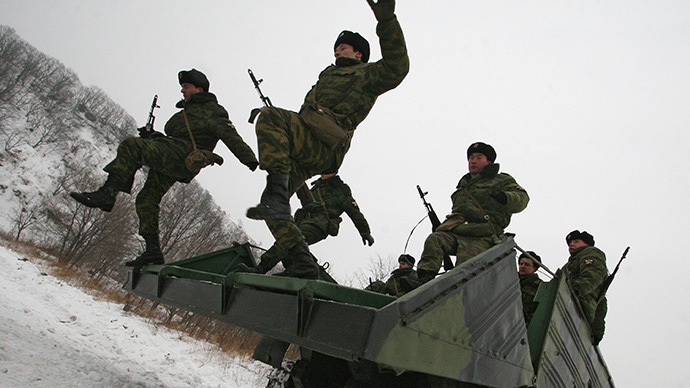 Russia has overtaken the UK to become the third biggest spender on defense in 2013. The annual IHS report puts Moscow's budget at $68.9 billion, behind the US and China.
It's estimated the Russian military budget for 2014 will be $78 billion. The national plan is to increase defense spending by more than 44 percent over the next three years, to $98 billion in 2016, according to IHS Jane's Annual Defense Budgets Review.
Russia's defense expenditure has more than doubled since 2007, and will be triple by 2016, the study says. The share of military expenditure in the Russian budget will rise from 15.7 percent in 2013 to 20.6 percent in 2015.
"These additional funds will likely be spent on modernizing equipment, and improving training and social conditions for military personnel," Craig Caffrey, the senior analyst, IHS Jane's Aerospace, Defense & Security said. An increase in defence spending indicates such expenses are a priority for Russia, as it comes at a time when the economy is losing steam, Caffrey said. Preliminary data from the Russian statistics service Rosstat showed that the country's GDP growth slowed to 1.3 percent in 2013, which is below the expected 1.5 percent.
Globally, four of the top five fastest growing defence markets in 2013 are in the Middle East, while the majority of NATO member states are cutting their defence budgets, IHS said.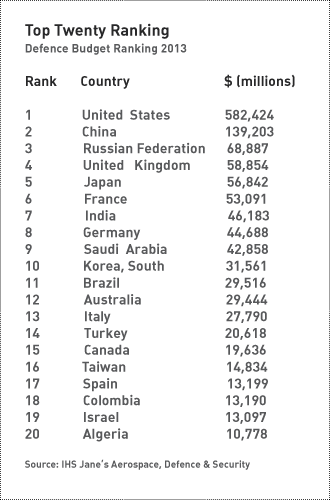 The global trend is a reduction in military budgets in Europe with the emphasis moving to the Pacific Rim, Vedomosti quotes Konstantin Makienko, an expert from the Center for Analysis of Strategies and Technologies.
The most militarized country in 2013 was Saudi Arabia with a 6 percent defence spending to GDP ratio. Japan had the smallest ratio at 1.1 percent. Russia was again the 3rd with 3.3 percent, slightly lagging behind the US where the figure is 3.5 percent.
In 2014 global defence spending is expected to rise to $1.547 trillion, which would mark the first overall increase since 2009, the report said.
A separate report by the Stockholm International Peace Research Institute (SIPRI) released last Friday showed that sales from Russia's top arms producers jumped 28 percent in 2012, while global sales dropped 4.2 percent. World's top 100 companies selling arms had revenues of $395 billion, SIPRI said.
However, most of Russia's success came from better domestic sales on the back of the country's $700 billion State Armament Plan for 2011 – 2012, explained Dr Sam Perlo-Freeman, Director of SIPRI's Military Expenditure and Arms Production Programme.
You can share this story on social media: