Ruble follows oil's route, touches 4-mth low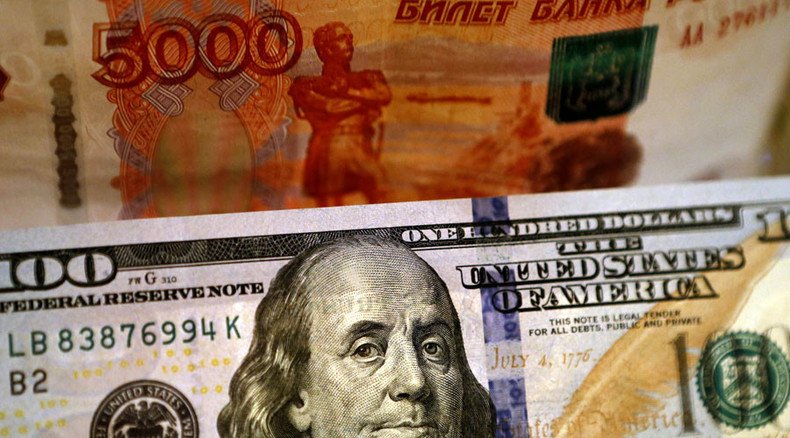 The ruble was trading at 58.6 against the US dollar Friday as of 14:30 GMT, its worst position since April. A catalyst is weak oil, as Brent crude is trading at about $55 per barrel, compared to $63 at the end of June, 13 percent cheaper. 
Apart from weak oil, which is the main factor for the ruble stumbling, the selling of foreign currency by exporters, that was expected to strengthen the ruble, didn't meet expectations.
After losing about 50 percent last year, the ruble started regaining ground and was trading at 49 to the dollar at its peak after hitting rock bottom at 79 in December. Some Russian officials thought this meant the link with the oil price was over.
Russian policymakers, including Economic Development Minister Aleksey Ulyukaev, have insisted the ruble has found its fair value. He said the ruble's fundamental value is 55 plus-minus three rubles to the dollar.
However, after the peak came disappointment, with the ruble losing more than 15 percent.
Over the last couple of weeks there have been various forecasts for oil prices, sometimes contradictory. A huge mix of factors including Iran's comeback, possible US rate hike, a slump in China's stock exchange as well as crises in Greece and Ukraine make it not a matter of pure economics but rather a matter of difficult to predict expectations and speculation.
Most analysts remain cautious saying both – upward and downward dynamics – are possible. Most recently, Morgan Stanley said the fall in crude prices could be the worst in 30 years, adding that it sticks to a forecast the prices will rise. Earlier this week the oil guru Gary Ross, the founder of consultants PIRA Energy Group who predicted last year's rout said crude prices could return to $100 a barrel in the next five years.
You can share this story on social media: