US jobless claims plunge to lowest level in 42yrs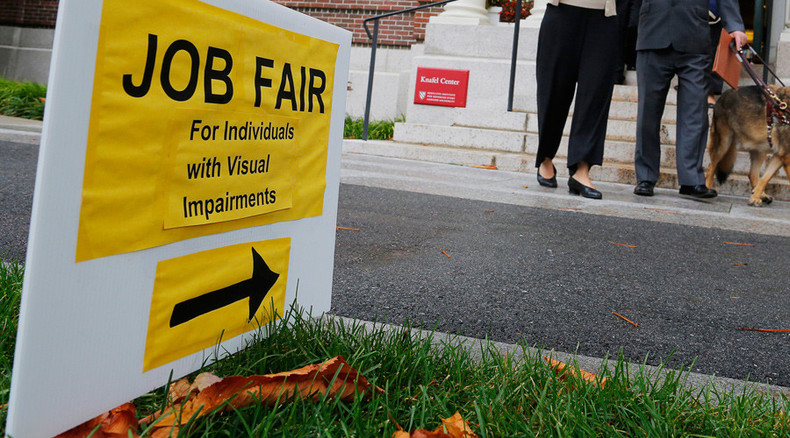 The number of US workers filling applications for jobless benefits fell by 26,000 to 255,000 last week, the Labor Department said. It is the lowest level since 1973.
In the previous week the number of claims was unrevised at 281,000 while the 4-week moving average was 278,500, according to the report released Thursday. The average level of claims has been near that mark since early April.
"There were no special factors impacting this week's initial claims," it said.
Analysts say that volatility is typical for this time of year as auto plants retool for the new model year and school staff varies with summer holidays.
The Labor Department's payroll report, issued earlier this month, showed that hiring was strong and payrolls increased by 223,000 in June while the jobless rate fell to a seven-year low of 5.3 percent.
READ MORE: US interest rate hike likely by end of 2015 – US Fed
The US labor market improvement is one of the important conditions for the Federal Reserve to raise rates. Last week the Fed Chief Janet Yellen said it would likely raise short-term interest rates by September as the economy "evolves as expected." She pointed to the economic growth after its first-quarter slump and said it was to grow at an annual pace between 2.5 percent and three percent in the second and third quarters.
READ MORE: ​Expectations of US rate rise pose 'tough challenges' for developing economies - World Bank
Investors and the International Monetary Fund, which cut the US growth outlook last month, asked the Fed not to hurry and wait till 2016. A US interest rate rise poses "tough challenges" for developing and emerging economies, the World Bank warned. It hasn't been changed since 2008.
You can share this story on social media: