​Expectations of US rate rise pose 'tough challenges' for developing economies - World Bank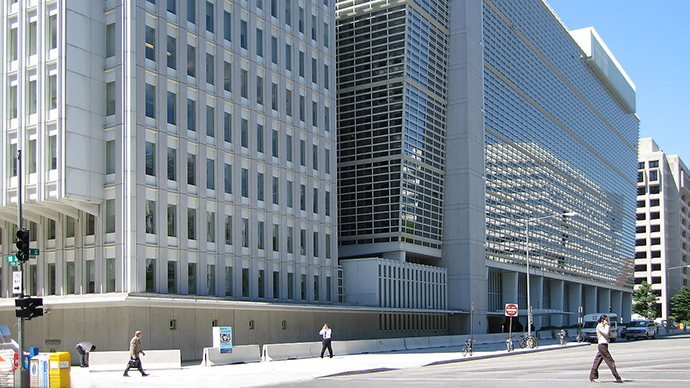 Developing countries could have to confront serious difficulties in 2015. The main reason is a looming US interest rate rise which would spur higher borrowing costs as they try to adapt to low crude prices, said the World Bank.
When the US finally increases its interest rates from record lows, borrowing will become more costly for emerging and developing economies, according to World Bank's latest Global Economic Prospects report published Wednesday.
Since the US economy continues to recover and interest rates remain low in other major economies, this process won't be a major blow, however it can create a reduction of capital flows and financial market volatility, said the report.
READ MORE: World Bank improves Russia forecast on higher oil
Developing countries are expected to grow 4.4 percent this year, likely to reach 5.2 and 5.4 percent in 2016 and 2017.
"Developing countries were an engine of global growth following the financial crisis, but now they face a more difficult economic environment. We'll do all we can to help low- and middle-income countries become more resilient so that they can manage this transition as securely as possible," said World Bank President Jim Yong Kim Wednesday.
Countries that improve the business environment and subsequently create jobs, and invest in education and healthcare are most likely to overcome the crisis, he added.
World Bank Chief Economist and Senior Vice President Kaushik Basu spoke about the future of BRICS members Brazil, China and India in the event of an increase in US rates.
"Slowly but surely the ground beneath the global economy is shifting. China has avoided the potholes skillfully for now and is easing to a growth rate of 7.1 percent; Brazil, with its corruption scandal making news, has been less lucky, dipping into negative growth. With an expected growth of 7.5 percent this year, India is, for the first time, leading the World Bank's growth chart of major economies. The main shadow over this moving landscape is of the eventual US liftoff," he said.
The OPEC meeting didn't change the World Bank's forecast on the Russian economy, published June 1. Real GDP is still expected to decline by 2.7 percent in 2015, moderately increasing in 2016.
Suggestions the US will raise its interest rates this summer have been around since the beginning of the year. Last week, the International Monetary Fund cut its growth outlook for the US economy and warned the US Federal Reserve to wait until 2016 before increasing interest rates.
You can share this story on social media: