World Bank improves Russia forecast on higher oil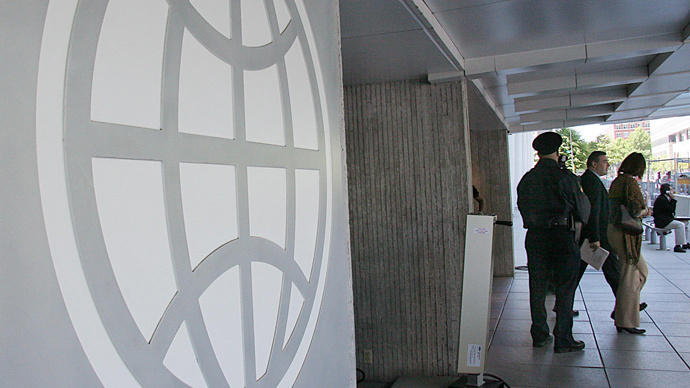 The World Bank has issued a more optimistic economic forecast for Russia for 2015-2016, which assumes GDP will fall less than predicted in 2015 and start growing from 2016. The change of heart is linked to growing oil prices in the last two months.
The real GDP is now expected to decline by 2.7 percent in 2015, increase by 0.7 percent and 2.5 percent in 2016 and 2017 respectively. This is a change to the Bank's viewpoint in April when GDP was anticipated to shrink by 3.8 percent in 2015 and by 0.3 percent in 2016.
"The revised forecast is largely driven by the adjustment in oil prices over the previous two months that is supporting the ruble exchange rate and a slightly faster retreat of inflation. That would allow the Central Bank of Russia to pursue monetary easing at a more rapid pace for the rest of 2015, as a result bringing down borrowing costs and increasing lending to firms and households. Both investment and consumption growth would contract slightly less than previously expected,"said Birgit Hansl, the World Bank's top economist for the Russian Federation, on Monday
Oil prices, so far standing at about $58 per barrel in 2015, will rise and reach $63.6 per barrel in 2016. However, as the global oil market is in search for a "new equilibrium" and a number of structural reforms still need to be implemented, there is a possibility for a significant negative risk to the World Bank's projection, said Hansl.
READ MORE: 'Dutch disease' over in Russia – finance minister
After a slight increase in 2014, consumption is to set to fall in 2015-2016. Investment activity will recover slowly in 2016 and more significantly in 2017, provided the remaining structural problems are solved.This requires improvements for business and consumers and that sanctions on Russia are gradually lifted by the end of 2016, said the report.
Oil prices, one of the two main reasons for Russian GDP fall in 2015 along with the sanctions, dropped by about 50 percent in the second half of 2014, but have gone up to $60-65 per barrel since the beginning of 2015.
Russian officials, however, have been stressing that the connection between the ruble rate and the oil price has decreased. Low oil prices are not a tragedy for Russia as it has found a remedy for its Dutch disease, said Russian Finance Minister Anton Siluanov last week, speaking at an annual economic forum in Vladimir, Russia.
You can share this story on social media: