​'Dutch disease' over in Russia – finance minister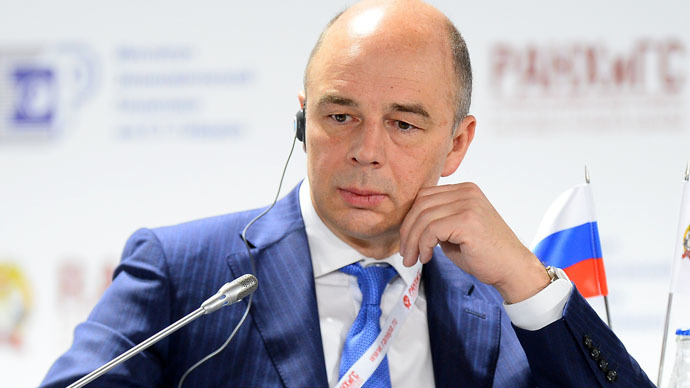 The end of the 'commodity boom' helped end Russia's economic turmoil which has resulted in rising exchange rates and deteriorating economic competitiveness, said Russian Finance Minister Anton Siluanov.
"Dutch disease is over," Siluanov said on Friday as quoted by Bloomberg, "The ruble is no longer overvalued in real terms, something that was caused by the excessive use of volatile oil and gas revenues."
Siluanov added that the real exchange rate, which strips out the inflationary effect, returned to the level of the first half of the 2000's. That means Russia is no longer suffering from 'Dutch disease', Siluanov said referring to the negative effect on the economy caused by the oil slump.
READ MORE: Russian stock market hits 3.5 yr high
The term 'Dutch disease' appeared in the 1970s to describe what was going on with the economy of the Netherlands after the discovery of natural gas in the North Sea. Then the strengthening of the national currency provoked export appreciation, a crisis in the manufacturing sector, an increase in inflation and the unemployment rate.
Siluanov believes the current fall in oil prices is "structural, long-term" unlike the cyclic recession in 2008, that's why Russia is learning to "live within its means."
Although the coming year will be difficult and industrial production will be cut, the economy will adjust to the current conditions in the first half of 2015, Siluanov said. He suggests the government must limit spending and give more freedom to private enterprise to stimulate economic growth.
"We have to decide what kind of economy we want to see in several years," he said. "As far as fiscal policy, I'm sure we can revisit decisions that were shelved for a long time and not taken because they were politically unpopular."
There are certain reasons for being optimistic, because if the government adopts an appropriate set of structural reforms under the current conditions, Russia will be able to sustain even higher growth rates than in previous years, he said.
Siluanov has said the ruble has found its equilibrium after the Central Bank of Russia reduced the key rate from 17 to 15 percent.
You can share this story on social media: