Unemployment rate falls in June as nearly 40% of Americans opt out of workforce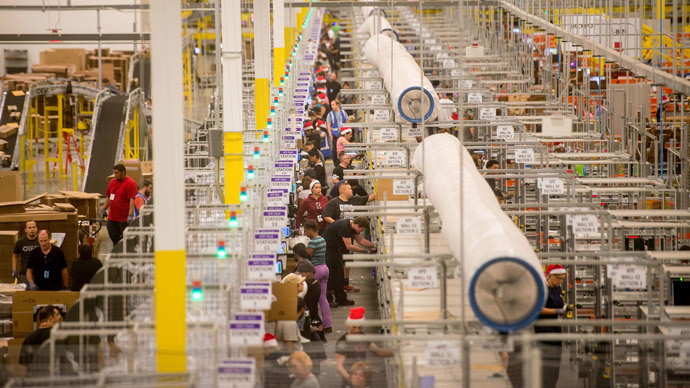 The US government released its monthly jobs report for June showing the unemployment rate falling to a seven-year low. However, analysts say the picture may be deceiving, as labor participation also dropped to a 38-year-low for those 16 and older.
The June jobs report from the Bureau of Labor Statistics (BLS), which is intended to give a snapshot of the state of the US labor market, shows that the country's unemployment rate fell to 5.3 percent from 5.5 percent in May, with American companies adding 223,000 new jobs. However, more people left the workforce and the percentage of Americans with jobs fell, dropping to 62.6 percent for those 16 and older.
READ MORE: Number of women in US workforce hits 27-year low
"In some ways it was a Goldilocks report," Russ Koesterich, chief investment strategist at BlackRock, told CNBC "You still see strength from job creation, the hourly earnings number was on the soft side. But [for those] worrying about the [Federal Reserve], it offered the best of both worlds. In some ways, it was not too hot or too cold."
Average hourly earnings in June were unchanged at $24.95 for all private, non-farm payrolls.
Hourly earnings growth stuck at 2% per year. No sign of acceleration here. pic.twitter.com/9B0qnTuYLy

— Ben Casselman (@bencasselman) July 2, 2015
David O'Malley, CEO at Penn Mutual Asset Management, agreed with Koesterich, believing the report shows that the US economy is solid enough for the Federal Reserve to raise interest rates in September, but that a lack of wage growth could give policy makers an excuse to wait until December to make the long-awaited change.
"It was a Goldilocks report ‒ mediocre but with a little bit of something for everyone. This also means that the Fed is not under tremendous pressure to raise rates. We still think that a September rate hike is most likely, as the report does not seem to be too weak for them to pause," O'Malley told Marketwatch.
Wages were the biggest concern for both analysts and US Labor Department Secretary Tom Perez.
"The labor market is good, there's just not any wage pressure," Joseph LaVorgna, chief U.S. economist at Deutsche Bank Securities Inc. in New York, told Bloomberg, which noted that LaVorgna correctly projected the drop in unemployment. "The disappointment is on wages and on the participation rate."
What's the real unemployment number? It's the lowest since July '08, according to this » http://t.co/UM77IG7PWqpic.twitter.com/V8440fvc7j

— CNBC (@CNBC) July 2, 2015
"We've got to pick up the pace on wages," Labor Secretary Tom Perez told Bloomberg. "There's still significant slack."
However, Perez wasn't as concerned with the record number of people who opted out of the workforce in June.
"I'm very heartened by the fact that this isn't about discouraged workers. This is about the pace of entry largely in the workforce," he said on CNBC's 'Squawk on the Street' on Thursday. "When compared to 1977, our population is much older now, so that comparison is slightly misleading in that sense," Perez said.
READ MORE: 33% of Americans out of workforce, highest rate since 1978
Overall, more than 93.6 million Americans aged 16 or older didn't participate in the nation's labor force last month.
"This was an O.K. report, but the unemployment rate didn't go down for the right reasons," Liz Ann Sonders, chief investment strategist at Charles Schwab, told the New York Times.
Baby boomers were replaced by millennials as the largest generation in the workforce in May, according to US Census Bureau data. The shift comes as boomers turn 65, leading them to retire in large numbers. It's expected that ‒ due to a large rate of retirement among the older generation ‒ the labor force participation rate will keep hitting record lows for at least the next 12 years, Austan Goolsbee, a University of Chicago economics professor and former chairman of the Council of Economic Advisers, tweeted.
to reiterate again: w/baby boom retiring, labor force participation rate will keep setting "lowest LFP since ..." records for next 12+ yrs

— Austan Goolsbee (@Austan_Goolsbee) July 2, 2015
The underemployment rate ‒ meaning the number of Americans who are forced to work part-time, even though they would prefer to work full-time ‒ fell from 10.8 percent to 10.5 percent in June.
Looking at the BLS report as a whole, rather than just focusing on one or two statistics, some analysts felt that there was still too much looming uncertainty about the US economy for the Fed to risk raising interest rates in September.
"We now call into question the previously overzealous assessment of hiring in Q2," Lindsey M. Piegza, chief economist at Stifel Fixed Income, told CNBC. "Payrolls remain positive, but the pace is modest at best, wage inflation is virtually nonexistent and the labor force participation rate continues to decline with an augmented unemployment rate near 11 percent. Does this sound like a labor market ready to withstand a rising rate environment?"
Regardless of whether the rate hike comes in September or December, economists remain certain the Fed will move by the end of 2015.
"It's becoming harder to encapsulate the progress of the economy with one number. There's more heterogeneity with wages and inflation than there was 20 years ago," Koesterich said. "We still think they move this year."
You can share this story on social media: