US interest rate hike likely by end of 2015 – US Fed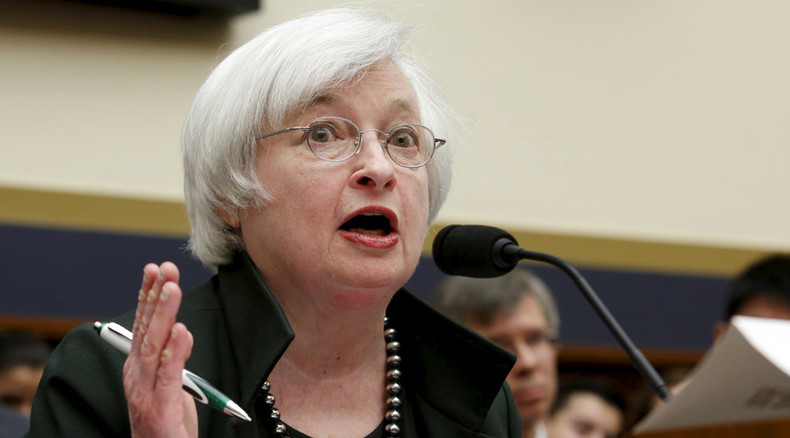 The Federal Reserve is likely raise short-term interest rates by the end of year as the economy "evolves as expected," despite turmoil in China and Greece, said Fed Chief Janet Yellen.
"Prospects are favorable for further improvement in the US labor market and the economy more broadly," Yellen said on Wednesday in a monetary policy report.
The Federal Reserve has set two conditions for raising rates, according to Yellen. Those are a further improvement in the US labor market and signs that inflation is likely to return to two percent after being below for more than three years.
The Fed does not want to wait until 2016, according to Yellen, as the US economy is growing again after its first-quarter slump. It's expected to grow at an annual pace between 2.5 percent and three percent in the second and third quarters. The job market continues to improve, driving the unemployment rate down to 5.3 percent in June.
READ MORE: Unemployment rate falls in June as nearly 40% of Americans opt out of workforce

The Fed aims to move rates soon and on slow path rather than to wait a long time and move aggressively as this could give the central bank flexibility.
"If we wait longer, it certainly could mean that when we begin to raise rates we might have to do so more rapidly," Yellen said. "An advantage to beginning a little bit earlier is that we might have a more gradual path of rate increases."
The interest rate move has been put off several times this year because of a range of different obstacles, such as the country's economic contraction in the first quarter, a slowdown in China's economy and Greece's default on debt to the International Monetary Fund.
"The situation in Greece remains difficult. And China continues to grapple with the challenges posed by high debt, weak property markets and volatile financial conditions," Yellen said, adding that the risk from abroad was small.
READ MORE: Expectations of US rate rise pose 'tough challenges' for developing economies - World Bank
While many investors expect the Fed to wait until December, the bank has indicated it could move rates as early as September.
Rates in the US have been held at between zero and 0.25 percent since 2008. Last month, the International Monetary Fund cut its growth outlook for the US economy and called the US Federal Reserve to wait until 2016 before increasing interest rates. A US rate rise poses "tough challenges" for developing and emerging economies, the World Bank warned, as borrowing would become more costly for them.