China's trade shrinks in May, both exports and imports tumbling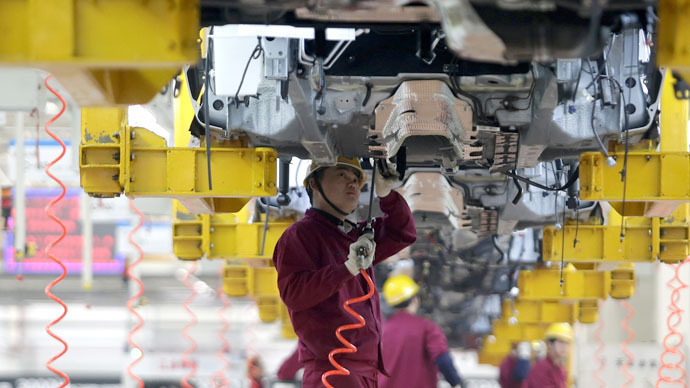 Chinese trade in May showed protracted weakness on slowing demand despite government efforts to boost growth. Exports in the world's second-largest economy declined 2.8 percent year-on-year while imports slid 18.1 percent.
While exports fell to $191.16 billion (1.17 trillion yuan) in May, imports experienced a sharper decrease from a year ago to $129.4 billion (803.33 billion yuan), the Xinhua news agency reported on Monday.
"The May trade data... suggests both external and domestic demand remain weak," Julian Evans-Pritchard, an analyst with research firm Capital Economics, told Channel NewsAsia in a note.
READ MORE: China to axe 64% of giant state-owned conglomerates – state media
The weakness in imports pushed the trade surplus to $59.11 billion from $34.1 billion in April, exceeding market expectations. Total foreign trade slipped 9.7 percent from a year earlier to $318.2 billion (1.97 trillion yuan).
China's economy expanded seven percent in the first quarter of 2015, which is the slowest quarterly growth since the global financial crisis in 2008.
Trade with the EU, which is China's biggest trade partner, waned by 7.1 percent during the January-May period. China's trade with its second largest partner, the US, experienced stronger growth, rising 2.8 percent for the same period.
Even with the PMI indicator of manufacturing activity hitting a six-month high of 50.2 in May, Chinese manufacturing industry is facing a slowdown.
Chinese leaders said they were ready to accept slower but more sustainable growth, focusing more on consumers. Last month, the People's Bank of China lowered interest rates by 25 basis points to 5.1 percent, its third cut in six months, aiming to inject liquidity into the market. It also twice reduced the amount of cash banks must keep in reserve, lowered minimum down payment levels on second houses and shortened the ownership period.