​China shows new signs of slowdown in April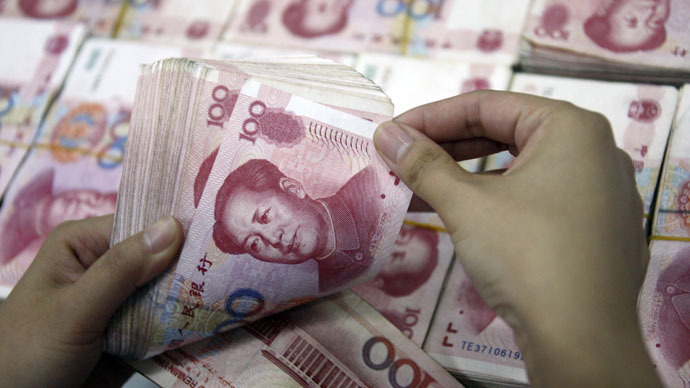 The Chinese economy slowed down in April, as fixed asset investment, a crucial driver of activity, is losing pace, dropping to levels last seen in 2000. It adds to concerns the country's goal to reach 7 percent growth in 2015 is becoming unfeasible.
New data published on Wednesday shows investment growth increased by 12 percent in the first three months of the year from a year earlier, which marks it slowest pace in 15 years.
Money supply growth slowed to 10.1 percent year on year.
Banking in China also showed poor results as earnings grew slowly and the amount of bad loans increased. Banks made only 708 billion yuan ($114 billion) of new loans last month, a fifth less than expected, as lenders became more cautious.
Alongside this, popular discontent is escalating with the authorities' inability to cut job losses and reduce debt defaults by local governments and companies.
READ MORE: China cuts economic growth target to 7%, lowest in 25 years
The world's second biggest economy is losing momentum, despite all the effort the authorities have been recently making to boost growth.
On Sunday China cut benchmark interest rates for a third time in six months and most experts expect China to continue cutting rates and the reserve requirement ratio [the proportion of reserves banks need to keep to back up deposits – Ed.] in the coming months. The authorities are trying to revive the ailing property market that accounts for 15 percent of the economy and reach 6.7-6.8 percent growth in the second quarter.
"It's again worse than what most people had expected, especially on the investment side. All of this suggests that the downward pressures on growth in China are persisting, especially in the industrial part of the economy," Louis Kuijs, China economist at Royal Bank of Scotland in Hong Kong, told Reuters. He also noticed that while Chinese stock prices are rising, money is leaving the country at the fastest pace in 10 years. He estimates China has lost $300 billion in outflow in the six months through March. At the same time, Deltec International, a Bahamas investment firm suggests the numbers are even higher.
Exports, imports and inflation are also weaker than expected. As revealed last week, in US dollar terms, China's exports for April fell 6.4 percent and imports fell 16.2 percent. For example, trade between Russia and China this year has decreased by 32.9 percent. Compared with the same period last year bilateral trade has decreased by $19.5 billion, the Chinese customs authorities report.
You can share this story on social media: