S&P raises Greek rating by 2 notches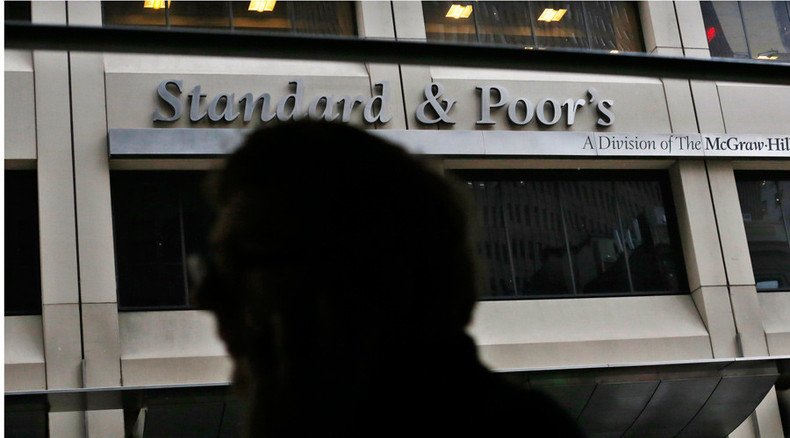 The Standard & Poor's rating agency has upgraded the long-term credit rating of Greece by two notches - from CCC- to CCC + with a stable outlook. The rise came after Athens repaid the IMF and ECB.
"The upgrade reflects Greece's improved liquidity perspective following last week's consent, in principle, from the Eurogroup to the three-year loan program for Greece via the ESM, alongside the provision of €7.16 billion in three-month bridge financing to the Greek government, which it used on July 20 to clear its arrears with the IMF and the Bank of Greece and to repay the ECB," said a statement from the agency published Tuesday.
READ MORE: Greece makes due payments, no longer in arrears - IMF
Greece's default on its commercial debt is "no longer inevitable" in the next 6-12 months, said the report.
However, Greece's rating remained in highly speculative territory, as any CCC rating means that the country remains vulnerable to nonpayment.
When the last rating change took place, S&P lowered the long-term rating of Greece by one notch, from CCC to CCC- with a negative outlook. That was made on June 29, just before Athens missed a €1.6 billion payment to the International Monetary Fund on June, 30.
READ MORE: S&P downgrades Greece to just above junk
Last week, Greece reached an agreement with its creditors. The country will receive financial assistance in the amount of €86 billion in exchange for further austerity including raising the retirement age, pension cuts and tax hikes. The first package of austerity has already been adopted by the government and came into force on Monday. The vote on the second package is scheduled for Wednesday, as tension rises in the parliament due to a lack of unanimity on Alexis Tsipras' agreement with the troika of creditors.
On Tuesday, Greek government spokeswoman Olga Gerovasili said Athens wants to wrap up the talks on the third bailout by August 20, once parliament adopts the second round of austerity measures.
Prior to her statement information came out that Greece would have to ratify the third reform package by August 6, that includes imposing a 25 percent income tax on farmers instead of the current 13.
Gerovasili denied the rumors, saying they were groundless.
The creditors are expected to start making payments to Greece on August 17 provided the bailout is adopted by national governments and austerity measures are introduced by Athens, according to a source in the ruling Syriza party.
You can share this story on social media: