Greece hopes to complete bailout talks by August 20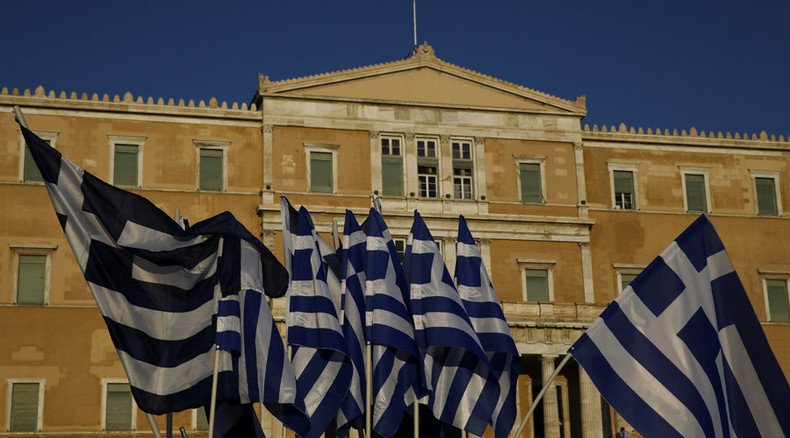 The Greek government says it plans to finish talks on the third bailout worth €86 billion by August 20, once parliament adopts a second round of austerity measures on Wednesday.
Talks with international creditors will start after the Greek Parliament votes on changes in VAT and the retirement age, as well as full independence of the country's statistic service ELSTAT.
Greece will also need to approve changes in its civil procedure code and integrate the European directive on banks into legislation, government spokeswoman Olga Gerovasili said in a statement quoted by TASS.
"Immediately after the vote negotiations with the lenders will start, with August 20th being the final date," Gerovasili said.
Greece is facing an additional €3.2 billion bond repayment to the ECB on August 20.
On Tuesday, the Greek government submitted draft legislation on a second package of measures to parliament. Lawmakers are due to vote on the measures on Wednesday, AFP said.
READ MORE: Greece makes due payments, no longer in arrears - IMF
Russian news agency TASS sources in the ruling Syriza party said earlier on Tuesday that the Greek government should adopt the third package, the most difficult austerity bill by August 6, with the first installment made on August 17.
The source said the third reform package would include the controversial proposals from creditors to increase the retirement age and increase income tax on farmers from 13 percent to 25 percent.
However, Gerovasili denied the rumors, saying the government made it clear that the conditions for renewing the bailout negotiations do not include increased taxation on farmers, and the talk about it is groundless.
The law that came into force on Monday has increased VAT on various foodstuffs, and is expected to lead to a 10 percent price hike, which could hit farmers as it will make their produce more expensive.
READ MORE: Germany OKs negotiations for 3rd Greek bailout deal
On Monday, Greece reopened its banks and settled the €6.8 billion arrears to the IMF, and the ECB after it received the €7 billion bridging loan from the EU.
The difficult decision on the austerity may further split Syriza. Many members of the ruling party openly consider Alexis Tsipras' policy contradicts the results of the July 5 referendum, in which 61 percent voted against austerity. The lack of unanimity in the Greek parliament may subsequently lead to new elections.
READ MORE: Greek deputy finance minister resigns over debt deal
A Greek exit from the eurozone hasn't left the agenda. Seventy-one percent of economists polled by Bloomberg said the Grexit problem would be back in 2016, adding that the €86 billion is not enough for Greece to survive the next three years.
You can share this story on social media: