S&P downgrades Greece to just above junk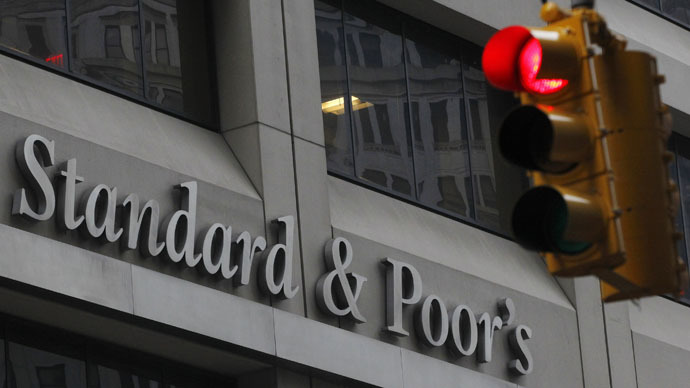 Standard & Poor's has cut Greece's credit rating from B to B negative – just a notch above junk level – warning of further downgrades as the newly elected Greek government scrambles to find a solution to Greece's financial woes with its creditors.
The rating agency noted on Friday that it will be keeping Greece on "creditwatch negative" meaning that another cut to its rating might be looming. The agency said that the downgrade "reflects our view that the liquidity constraints weighing on Greece's banks and its economy have narrowed the timeframe during which the new government can reach an agreement on a financing program with its official creditors."
The radical leftist Syriza party was swept into power last month promising to put an end to the harsh austerity measures imposed on the country as a condition of the massive €240 billion loan doled out in 2010 by a troika of creditors, European Commission, the International Monetary Fund and the European Central Bank.
The ECB announced earlier this week that it would not accept Greek government bonds as collateral until a coherent bailout program is agreed on.
"Although the newly elected Greek government has been in power for less than two weeks, we believe its limited cash buffers and approaching debt redemptions to official preferred creditors constrain its negotiating flexibility," S&P said in a statement.
The agency also warned that drawn out negotiations for a bailout plan could bode badly for Greece's economy.
"Liquidity constraints have narrowed the timeframe during which Greece's new government can reach an agreement with its official creditors," the agency said.
Greece meanwhile does not plan to seek any more bailout money, but instead needs authorization for issuing more short-term debt, Reuters reported citing a Greek government official.
"Greece is not asking for the remaining tranches of the current bailout program – except the 1.9 billion euros that the ECB and the EU member states' central banks must return," he told Reuters.
Greek officials, including rock star finance minister Yanis Varoufakis, have insisted that Greece does not want an extension of the bailout, but rather a bridge deal which would give it time to present a new proposal.
You can share this story on social media: