Turkish Stream pipeline priority for Greece, despite EU pressure – ex-minister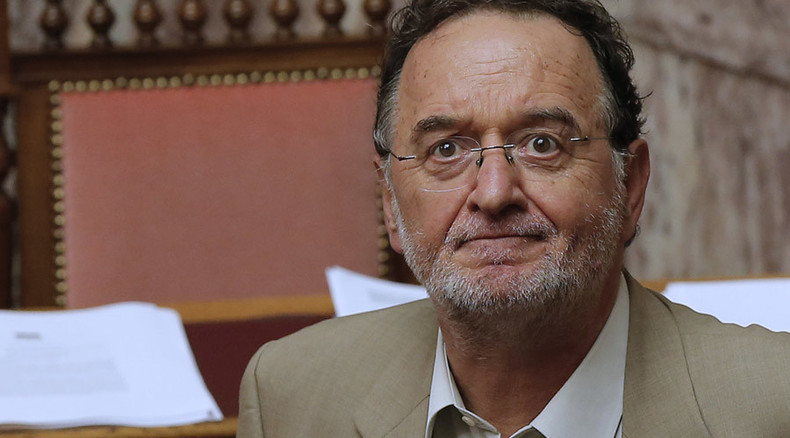 Greece has put a lot of effort into a gas deal with Russia and will keep on working on the South European gas pipeline despite pressure from the EU former Greek Energy Minister Panagiotis Lafazanis said.
The pipeline is a €2 billion extension through Greece of the Russia-led Turkish Stream project.
READ MORE: Russia, Greece sign €2bn deal on Turkish Stream gas pipeline

"We have put in a lot of effort to sign an agreement with Russia on the southern European gas pipeline from Turkey's border to Central Europe despite pressure and obstacles. Greece may move onto a new path with an independent energy policy," Lafazanis said Monday during the handing over of power to new energy minister Panos Skourletis.
"The European Union is continuing to pressure, attempting to stop the southern European gas pipeline project and its implementation," Lafazanis added.
New minister Panos Skourletis backs Lafazanis' position, saying that Greece supports the joint construction of a pipeline with Russia which will be part of Turkish Stream in Greek territory.
"We support the plan for the construction of the Greek-Russian gas pipeline on our territory. It opens new opportunities for us, which should be used," Skourletis said.
Greek Prime Minister Alexis Tsipras reshuffled his Cabinet on Friday replacing government members who voted against further austerity. Panagiotis Lafazanis was replaced then with Labor Policy chief Panos Skourletis. Of the 300 Greek lawmakers, 229 voted in favor of the austerity bill, 64 voted against it, while six abstained. The Greek parliament's approval of the austerity bill was needed for talks on the third €86 billion aid package to take place.
READ MORE: US urges Greece to reject Turkish Stream, focus on Western-backed project
Lafazanis repeatedly said that Greece would continue supporting the Russian gas pipeline. In May, Washington was calling on Athens not to abandon West-backed Trans-Adriatic Pipeline (TAP) project in favor of Turkish Stream.
The Russian project is more profitable for Athens than the TAP, according to Lafazanis, because Greece would own part of it and the project "will have higher tariffs." The project which is fully financed by Russia will create 20,000 jobs in Greece.
At present, Athens and Moscow are working out the details to construct a segment of the South European gas pipeline starting on the Greek-Turkish border that will the EU to be supplied. During the St. Petersburg Forum in June, the two sides signed a memorandum to set up a joint company to construct the pipeline.
The pipeline is supposed to supply 47 billion cubic meters of gas a year. Investment in the construction will amount to €2 billion. Construction will start in 2016 and will be completed by 2019.
Greek state-owned Energy Investments Public Enterprise SA and Russian Vnesheconombank will be partners in the project.
The 1,100 kilometer Turkish Stream pipeline will have four lines and an annual capacity of up to 63 billion cubic meters (bcm) of gas. About 16 bcm will be supplied to Turkey while the remaining 47 bcm will go to a hub on the Greek - Turkish border to be transported onwards to Europe.
It is replacing the South Stream project which Russia suspended in December as the EU blocked its implementation.