2015 St. Petersburg International Economic Forum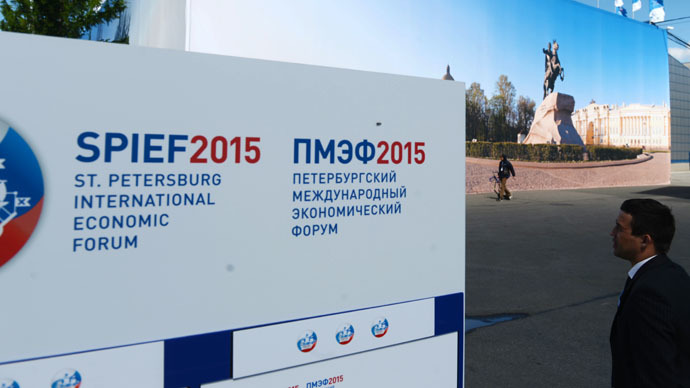 The 19th St. Petersburg International Economic Forum is underway. Despite sanctions, more than 7,000 guests and 1,000 international companies are represented, among them the heads of BP, Royal Dutch Shell and Total. RT will keep you updated.
20 June 2015

10:29 GMT

The St Petersburg International Economic Forum has come to an end. Here at RT Business Online we hope you've enjoyed our coverage and we hope to see you soon, as well as at next year's event, SPIEF-2016.

10:24 GMT

Many of the Forum's foreign participants admitted that the sanctions against Russia had caused great economic damage to the European Union, said Sergey Ivanov, the head of the Russian presidential administration.

10:20 GMT

Jack Ma, the CEO of Chinese online trading giant Alibaba, met with the founder of Russia's Yandex internet group, Arkady Volozh, on the sidelines of the Forum to discuss possible future cooperation.

Earlier, Ma said that he was looking for Russian partners in logistics and electronic payment systems. He added that Alibaba could announce a deal on the Russian market by 2016.

10:02 GMT

The Western sanctions introduced in 2014 have a wide range of benefits, as Russian customers, who preferred foreign products, were motivated to turn to Russian industry, and therefore speed up domestic production, Russian Industry and Trade Minister Denis Manturov told RT.

09:40 GMT

Russian President Vladimir Putin said that it is essential for the China-led Asian Infrastructure and Investment Bank (AIIB) to be transparent, Japan's Kyodo news agency reported.

08:42 GMT

Russian internet search engine Yandex plans to attract foreign investors for its new Turkish project, the head of the company, Arkady Volozh, said during the Forum.

"We see the Turkish project as an internal start-up and are ready to engage partners in it," he said, adding that an existing user base will make it straightforward to monetize the project.

08:04 GMT

Russia's Rosneft oil giant and Venezuela's PDVSA have signed a memorandum to jointly develop priority projects in Venezuela, Rosneft said in a statement.