Russian-Greek relations have 'a lot of potential' – Greek Economy Minister to RT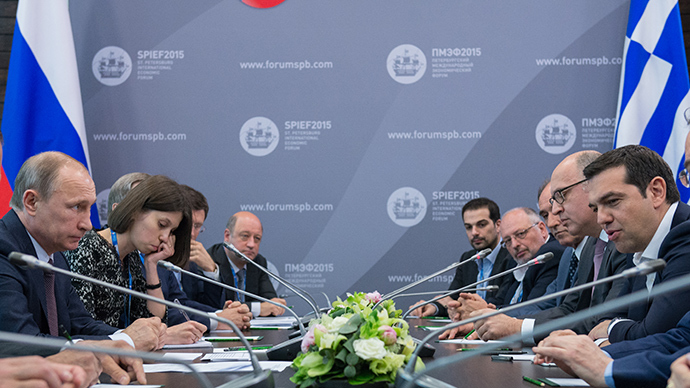 Russia-Greek relations have "a lot of potential" and will develop further once "problems" between the EU and Russia have settled down, Greek Economy Minister told RT on the sidelines of St. Petersburg Economic Forum.
"I think there is a lot of potential [in Russian-Greek relations] in a number of sectors," Giorgos Stathakis, Minister of Economy, Infrastructure, Shipping and Tourism said. As soon as problems which "exist at this point between the EU and Greece are overcome, then relations [between Moscow and Athens] will be fully developed," he added.
Stathakis added that he was "happy with that," but was reluctant to disclose if any "results" had been achieved at the forum.
READ MORE: Russia, Greece sign €2bn deal on Turkish Stream gas pipeline
"Obviously there are discussions and forms of agreement concerning energy relations and cooperation between Greece and Russia," the Minister said.
The head of the Greek Foreign Ministry's economic relations department, Giorgos Tsipras, echoed Stathakis' words when likewise asked about Russian-Greek cooperation. Speaking to RT, he called the St. Petersburg Forum "a new beginning for the economic relations between Russia and Greece."
When asked about highly skeptical reports in Western media, Tsipras jokingly replied that those who expressed doubts that Moscow-Athens relations would go far were "jealous".
"The new government means that we will have more multidimensional foreign policy and economic foreign policy and Russia is one of the countries that we will have for more relationship."
He added that Russia "is one of the main forces of the multipolar world that comes up in the new economic environment after the crisis of 2008."
On Friday, Russia and Greece signed a deal to create a joint enterprise for construction of the Turkish Stream pipeline across Greek territory, Russian Energy Minister Aleksandr Novak said.
The pipeline will have a capacity of 47 billion cubic meters per year and its cost of construction is estimated at €2 billion.
'No more sacrifices'
Speaking about the approaching deadline for Greece to make large payments to its international creditors, Tsipras said that Athens had made "every possible compromise from our own side."
"So I think the ball is on the side of the European Union," he said, adding that Greece is not going to make "more sacrifices" as the "people cannot suffer them".
Earlier, Greek Prime Minister Alexis Tsipras said that Europe shouldn't view itself as the "hub of the universe," and it had to understand that the center of world economic development is shifting to other regions.
READ MORE: EU shouldn't view itself as 'hub of universe' – Greek PM
The European Union "should find its way back to its statutory principles: solidarity, democracy [and] social justice," Tsipras said. "By sticking to policies of austerity, and policies which harm social cohesion, which aggravate the recession, this is impossible," added Tsipras.
You can share this story on social media: