​EU shouldn't view itself as 'hub of universe' – Greek PM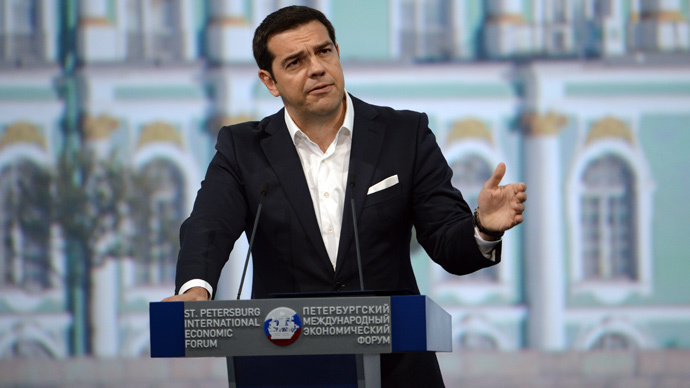 Europe shouldn't view itself as a "hub of the universe" and it has to understand that the center of world economic development is shifting to other regions, said Greek Prime Minister Alexis Tsipras, speaking at St. Petersburg International Economic Forum.
"The world differs from what it was before. We in Europe had an illusion for a long time of literally being a hub of the universe, as a center of the world and continued to see and rely only on our direct surroundings," he said.
READ MORE: Russia invites Greece to join BRICS bank
In the meantime, Tsipras added the economic center of the planet "has already shifted" as new powers are playing a more and more "important role on an economic and geopolitical level."
International relations are getting more and more multipolar, Tsipras said, referring to the role of the G8, the G20, regional cooperation in Asia and the BRICS partnership.
"The Eurasian [Economic] Union is a new formation of regional integration and is a potential example of new sources of wealth production, benefits and new economic powers," the Greek PM said.
He also said that the "vicious circle" of western sanctions triggered by the Ukrainian crisis must end.
"The crisis in Ukraine has opened a new wound in the heart of Europe, a wound of instability," Tsipras said. "And this is a very bad sign for international relations because instead of prosperity and economic cooperation in the region, we see processes leading to war, militarization, and sanctions."
READ MORE: Greek journalists were 'coached' by IMF to report with pro-austerity bias – ex-envoy
The European Union "should find its way back to its statutory principles: solidarity, democracy [and] social justice," Tsipras said. "By sticking to policies of austerity, and policies which harm social cohesion, which aggravate the recession, this is impossible."
You can share this story on social media: