​US urges Greece to reject Turkish Stream, focus on Western-backed project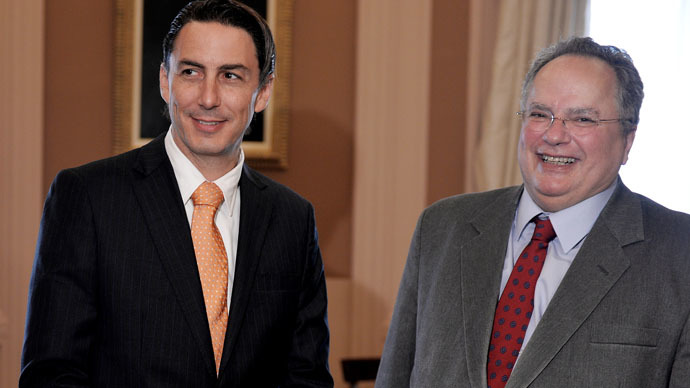 Washington is pushing Athens not to abandon a Western-backed Trans-Adriatic Pipeline (TAP) project in favor of the Russia-proposed Turkish Stream, a pipeline that would bring Russian gas to Europe via Greece.
Greece should consider joining the TAP, which will link Europe to natural gas supplies from Azerbaijan via Turkey, Greece, Albania and the Adriatic Sea, top US energy diplomat Amos Hochstein said after talks with Greek officials, Reuters reported on Friday.
"Turkish Stream doesn't exist. There is no consortium to build it, there is no agreement to build it. So let's put that to the side, and wait until there's some movement on that and see if that's relevant or not relevant and in the meantime focus on what's important - the pipeline we already agreed to, that Greece already agreed to", Hochstein claimed. He didn't give any details on the meeting with Greek officials, saying that they "more agreed than disagreed."
Greek Energy Minister Panagiotis Lafazanis, however, responded that the country would continue supporting the Russian gas pipeline.
"We are backing this project because we think it will be useful for our country," the minister said in a statement after the talks.
The US envoy said that the US position was the best way for Europe to secure its energy supply is by diversifying its sources and ensuring competition. He also added that having other gas sources would "help with price, reliability of supply, and that will help take the political element out of the supply system."
Meanwhile, on Thursday Russian President Vladimir Putin reportedly told Greek Prime Minister Alexis Tsipras during a phone conversation that Russia was ready to consider providing financial support for Greek companies that join the Russian pipeline project. Tsipras confirmed his country's readiness to participate in the Turkish Stream project.
READ MORE: Russia and Greece to ink Turkish Stream gas pipeline deal within days - Greek minister
Earlier in April during the Greek PM's official visit to Moscow, Putin and Tsipras agreed to collaborate in the construction of a new pipeline, to be part of the Turkish Stream project, which would deliver Russian gas to Europe via Greece. The Russian president said at that time that by joining the project Greece could become one of the main power distribution centers in Europe, and earn hundreds of millions of euros annually from gas transit fees. The Greek PM voiced interest in the proposal, claiming that the project could be a way to boost jobs and investment in the Greek economy. Cash-stripped Greece can also use revenues from potential joint projects with Russia to pay off debt to international creditors.
READ MORE: EU slashes growth outlook for Greece, blames high uncertainty
In December, Gazprom's CEO Aleksey Miller announced a plan to construct the Turkish Stream pipeline, replacing the South Stream project. Russia was forced to withdraw from South Stream due to EU objections over its construction. South Stream was supposed to connect pipelines running under the Black Sea to a network in Eastern Europe, with Bulgaria as the entry point.
The Turkish Stream pipeline will have an annual capacity of 63 billion cubic meters. Around 14 billion cubic meters of gas are to be supplied to Turkey, with the rest being pumped to a hub on the Turkish-Greek border for customers in Europe.
You can share this story on social media: