​Company linked to Alibaba founder Jack Ma probed for market collapse in China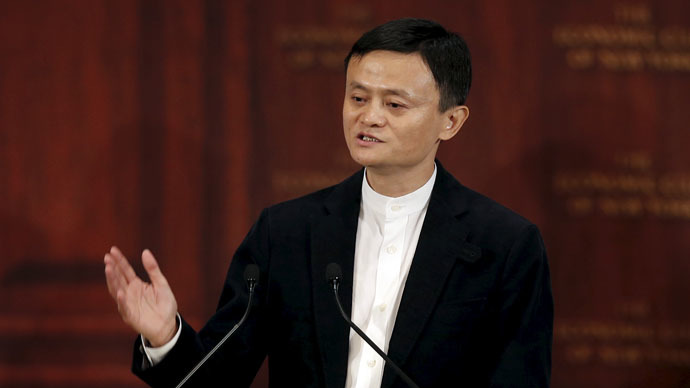 Hundsun Tech, a company partly owned by Jack Ma's financial investment company, is under investigation by the Chinese securities regulator for allegedly breaking market rules.
The HOMS trading platform run by Hundsun is accused of automatically closing margin-trading positions, increasing volatility and adding selling pressure to the stock market that has lost almost $4 trillion or 30 percent of its value in less than a month.
Jack Ma's Zhejiang Finance Credit Network invested $532 million last year in Hundsun Tech to acquire a 20.6 percent stake.
The richest man in China denies the accusations, saying he wouldn't do that, as he was "someone who was among the earliest to be hurt by stocks."
He was "astonished to hear that Hangzhou [Alibaba HQ is there – Ed.] was the origin of the market rout and that Jack Ma crashed China's stock market," Bloomberg quotes his blog post on Monday.
READ MORE: Alibaba debuts in New York in biggest IPO ever
HOMS was launched in 2012 for small and medium-sized businesses. The cloud based system became widely used by grey market finance offering borrowers credit 10 times bigger than the official limit.
Grey markets have funneled about $81 billion from three major brokerage access systems - HOMS, Shanghai Mecrt, and Hithink Flush Information Network, Dow Jones reported on Monday. Eighty-eight percent of the money went through HOMS.
READ MORE: China's stock market bounces back, after govt steps in to stop huge slide
Last week Beijing injected billions of dollars into markets to soothe the collapse and forbade anyone owning more than 5 percent in Shanghai or Shenzhen listed companies to sell their shares in the next six months. This galvanized the markets which showed a 13 percent growth in three days. However, the Shanghai Composite slid 1.2 percent at the close on Tuesday, while Citic Securities Co. and Baoshan Iron & Steel Co. dropped more than 6 percent.
The Chinese stock market crisis is linked to the valueballooningto $6.5 trillion at the beginning of June. This didn't correspond with the country's real economy performance, which expanded seven percent in the first quarter of 2015. This is the slowest quarterly growth since the global financial crisis in 2008.
A Bloomberg survey estimates the growth slowed down even further in the second quarter to 6.8 percent. China's goal for 2015 is 7 percent.