Alibaba debuts in New York in biggest IPO ever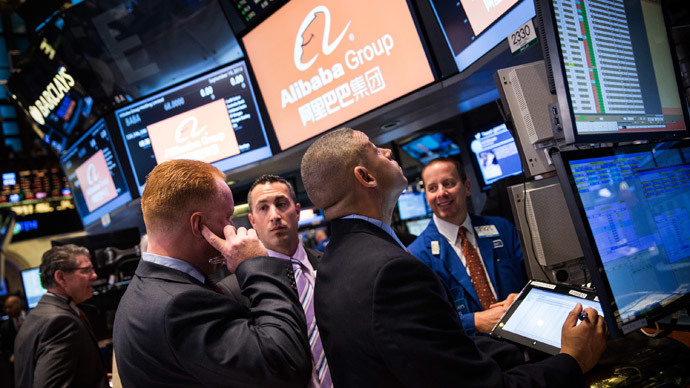 China's e-commerce giant made made IPO history after raising $25 billion and achieving a capital value of $230 billion, outstripping competitors Amazon and eBay and making it the world's most valuable technology company.
Shares started at $68 but quickly soared to $93.89 per unit in the early hours of trading on the New York Stock Exchange on Friday. Within the first hour of trading shares climbed 32.35 percent passing the $90 benchmark at 11:15am in New York.
In the year's most buzzed about IPO, Alibaba offered a total of 368 million shares to eager investors that wanted to buy into China's rapidly growing internet sector.
The hot share prices boosted the company's market capital to $230 billion, more than Facebook's $200.2 billion value and far more than its American Amazon, which has a market capitalization of $150 billion.
As #Alibaba starts trading today, see how it might rank amongst the biggest #IPOs of all time. pic.twitter.com/4Lv5UK6Uoq

— EY Growth (@EY_Growth) September 19, 2014
The 'BABA' share started at $68 per unit, hitting the top of the Allbaba IPO's price range.
On Thursday Alibaba valued itself at $167.62 billion, making it one of the most valuable tech companies.
READ MORE: Alibaba sets IPO record at $168bn
Alibaba's underwriters are PMorgan Chase, Citigroup, Morgan Stanley, Credit Suisse Group, and Deutsche Bank.
You can share this story on social media: