China's central bank injects $8.2bn to sooth market collapse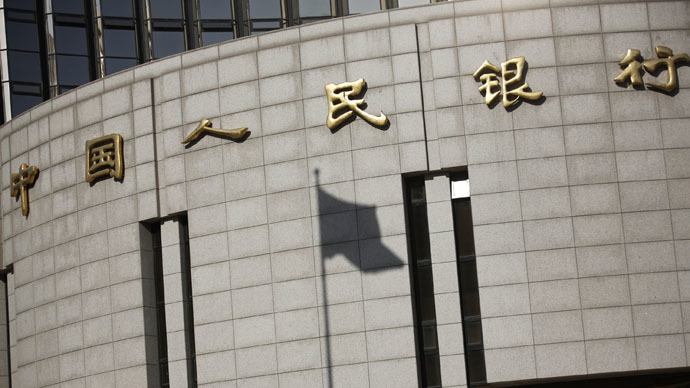 The People's Bank of China injected $8.2 billion into the money market on Tuesday, the 4th consecutive injection since June 25, Xinhua reports. The regulator is trying to bolster the stock market which has lost 25 percent since mid-June.
Another $5.6 billion (35 billion yuan) is expected to be injected into the market on Thursday, according to Xinhua.
The move aims to boost liquidity and lower financing costs in the real economy, said Zeng Gang, a banking researcher at the Chinese Academy of Social Sciences.
READ MORE: Chinese stock market bubble hits record $6.5tn – Bloomberg
The regulator started actively intervening to prop up the falling stock market in June. China's stock markets have lost $3.25 trillion, according to Bespoke Investment Group. The Shanghai Composite shed as much as 5.1 percent on Tuesday before ending down 1.3 percent. The tech-heavy Shenzhen Composite lost 5.3 percent.
The panic remains so strong that over 700 Chinese companies or about a quarter of the firms listed in Shanghai and Shenzhen bourses halted trading, state media reported Tuesday.
First warnings of a market bubble started to appear long ago, as the Chinese stock market hit $6.5 trillion in value last year which didn't reflect growth in the real economy. China's economy expanded seven percent in the first quarter of 2015, which is the slowest quarterly growth since the global financial crisis in 2008. The country's central bank has cut lending rates four times since November in efforts to support the economy.
READ MORE: China freezes IPOs to stop rapid stock market decline - report
However, Chinese markets went into reverse fueled by interest cuts that led to a loss of $3 trillion in market value last month, with the prominent Shanghai Composite Index losing 30 percent of its value in three weeks.
The government has taken a number of measures to restore investor confidence and stop the sell-off. On Saturday, China suspended initial public offerings, limiting the supply of shares, to drive up the prices of those already listed.
You can share this story on social media: