​Chinese stock market bubble hits record $6.5tn – Bloomberg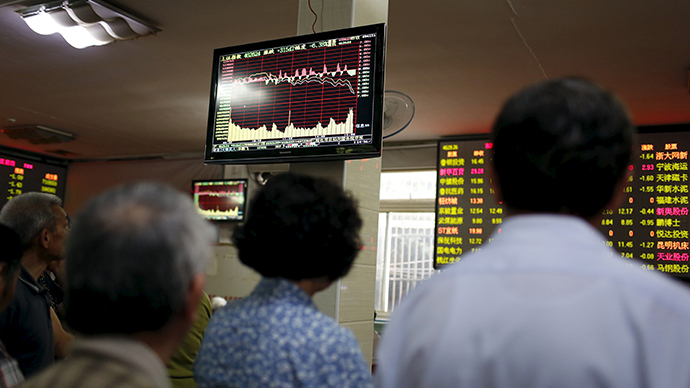 The Chinese stock market has boomed to a value of $6.5 trillion in the last year, which could buy Apple 8 times over and fund 65 Asian Infrastructure Investment Banks, as Bloomberg research shows. The rally is arguably dangerous as the economy is slowing.
Shanghai shares grew 152 percent and Shenzhen were up 185 percent over the year, but this has barely reflected changes in the country's fundamental economic indicators. This week stocks ignored the data showing nearing deflation and producer prices falling 4.6 percent in May.
READ MORE: Chinese trend sees new billionaire every week - report
"We have a wonderful bubble on our hands. Of course, there's short-term money to be made. But I fear it will not end well…Too many people are making too much money, too fast…It's greed, fear of missing out, and willingness to suspend belief," Michael Every, the head of financial markets research at Rabobank International in Hong Kong told Bloomberg.
While everyone in China is trading and the mainland sees a new billionaire every week, its economy is not doing well.
"China has loads of debt - the $4 trillion issued by local governments alone exceeds Germany's economy - but lacks a functioning secondary market that can act as a shock absorber in times of financial turmoil,"said William Pesek, a Bloomberg View columnist specializing in the Asia-Pacific region.
Both imports and exports fell in May. According to data published by Xinhua news agency this week, exports dropped to $191.16 billion while imports saw an even sharper plummet from a year ago to $129.4 billion.
READ MORE:China's trade shrinks in May, both exports and imports tumbling
In April, Chinese fixed asset investment, an essential economy driver, lost momentum and dropped to levels last seen in 2000. In the first quarter of 2015, the country's economy grew seven percent, which marked its slowest quarterly growth since the global financial crisis in 2008.
On Wednesday, New-York based MSCI decided against including China's locally traded shares in its equity benchmarks. The Chinese market is dominated by locals, with foreigners having only a 5.9 percent share. If they had been included local markets would have become global with businesses outside China granted access to them.
You can share this story on social media: