China's stock market bounces back, after govt steps in to stop huge slide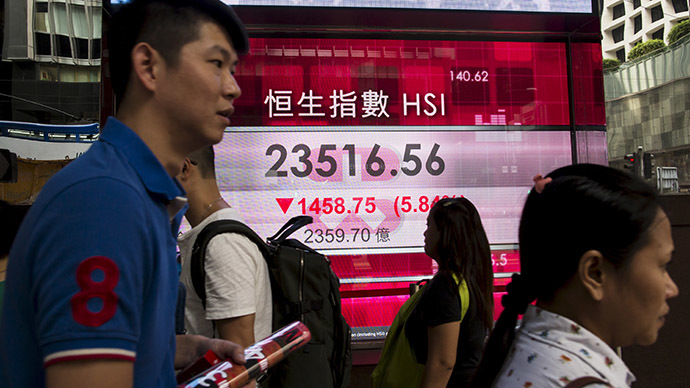 Chinese stock indexes rebounded Thursday. The Shanghai Composite added about 6 percent after the securities regulator made a bold move and stopped shareholders with more than a five percent stake in a listed company selling their stocks for six months.
The Shanghai Composite Index closed 5.8 percent higher on Thursday and in Hong Kong the Hang Seng China Enterprises Index saw its biggest rise since April, up 3.8 percent at 24,393 points.
The China Securities Regulatory Commission announced Wednesday that any shareholder, including foreign investors, who hold more than a 5 percent stake in any Shanghai or Shenzhen listed companies should not reduce their holdings over the next half a year.
Any violation of the new rule would be treated "seriously," the regulator said. The suspension aims to "maintain stability of the capital market and protect the legal rights and interests of investors," the CSRC explained, as cited byXinhua.
The move comes after another day of panic sales on Chinese markets on Wednesday, which seen the benchmark Shanghai Composite Index closing down 5.9 percent, while the CSI300 index fell 6.8 percent.
READ MORE: China's central bank injects $8.2bn to sooth market collapse
With investors having little hope in market recovery, some 500 additional Chinese companies halted trade of their stocks on Wednesday, bringing the total to over 1,200 or roughly 45 percent of the market.
Since mid-June Chinese market value has shrunk by over 30 percent, and the government has taken a number of measures to restore investor confidence and stop the sell-off. On Tuesday the People's Bank of China injected $8.2 bn into the money market on Tuesday, the 4th consecutive injection since June 25, and was expected to pour another $5.6 bn (35 billion yuan) into the market on Thursday, according to Xinhua.
You can share this story on social media: