China proposes economic corridor with Russia and Mongolia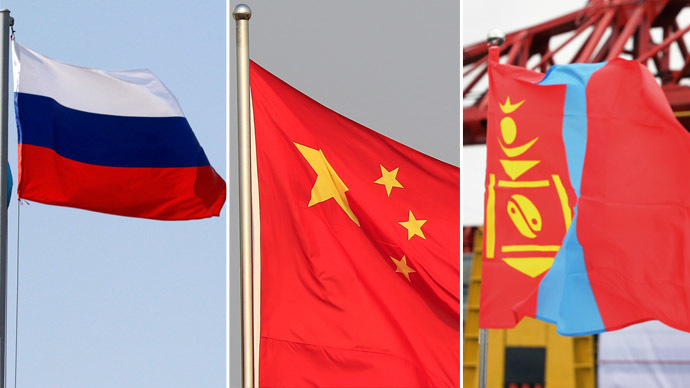 The revival of the 'Great Silk Road' that once linked China, Central Asia, and Europe won't stop at transport, but will build a "new platform" for economic development between China, Russia and Mongolia, according to Chinese Foreign Minister Wang Yi.
"Setting up a trilateral economic corridor is one of the key points in the Chinese Silk Road Economic Belt initiative," Wang Yi said at talks with his Mongolian counterpart Lundeg Purevsuren on Thursday, TASS reported.
The idea coincides with the Eurasian transport corridor, which plans to include a high-speed train and road between Moscow and Beijing, and everywhere in between.
"There is a huge area for cooperation existing between China, Russia and Mongolia. The construction of the China Mongolia-Russia economic corridor would connect China's Silk Road Economic Belt to Russia's transcontinental rail plan and Mongolia's Prairie Road program," the Chinese Foreign Ministry said in a statement, Sputnik reported.
While the high-speed rail link is still just an idea, it could in theory connect Moscow and Beijing in just 48 hours.
READ MORE: China may invest $5.2bn in Russia's first high speed railway
"We are confident that this would bring economic benefit to our three countries and serve as a major boost to the economic advancement of Eurasia as a whole," Wang Yi added.
READ MORE:China and Russia-led Eurasian Economic Union may set up free trade zone
Russia has led the founding of the Eurasian Economic Union (EEU) which aims to strengthen regional ties between ex-soviet states and beyond. So far it includes Russia, Armenia, Belarus, and Kazakhstan, with Kyrgyzstan, and possibly others, slated to join this year.
The Eurasian Economic Union which came into force in January 2015 was officially created by Russia, Belarus, and Kazakhstan on May 29, 2014.
Chinese President Xi Jinping initially proposed the idea of a new Silk Way to link China with Europe and boost the country's economic ties with Asia and Africa when meeting Russian President Vladimir Putin and Mongolian President Tsakhiagiin Elbegdorj on the sidelines of the 14th summit of the Shanghai Cooperation Organization in 2014.
The transport corridor will be formally discussed by China and Russia when Chinese President Xi Jinping visits Moscow in May, as well as at the St. Petersburg Economic Forum in June.
You can share this story on social media: