China may invest $5.2bn in Russia's first high speed railway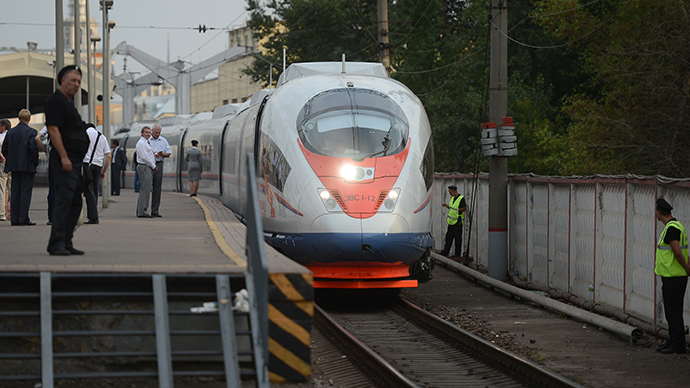 Beijing is interested in funding Russia's first high-speed rail line between Moscow and Kazan. China would invest a total of $5.2 billion (300 billion rubles) in the project.
The bulk of the investment, $4.3 billion at current exchange rates (250 billion rubles) will come in the form of 20-year loans from Chinese banks, and the other $860 million would come as an equity payment from the Chinese company in charge of the project, RIA Novosti reported Sunday, citing sources familiar with the proposal.
Train travel from Moscow to Kazan, the capital of the Tatarstan republic, will be shorted to just 3 and a half hours instead of the more than 14 hours it takes now. The train will be able to reach speeds of 400 kilometers per hour. It will also reduce the travel time between Kazan and Nizhny Novgorod, Russia's third largest city, to just ninety minutes from the more than 10 and a half hours it currently takes.
Map showing route from Moscow to Kazan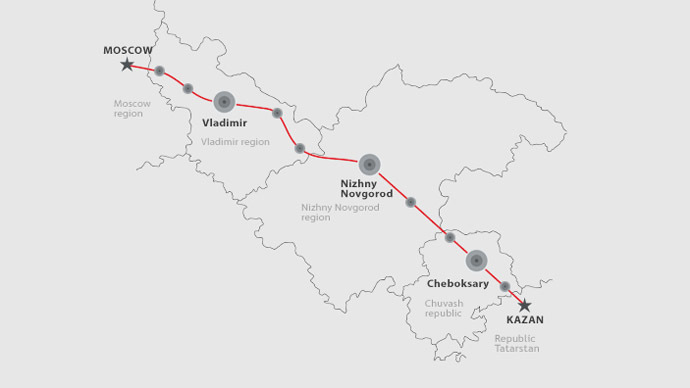 The plan was developed to better link mid-size Russian cities by improving transport, and therefore the mobility, of people.
China has embarked on an ambitious program to expand its rail connections, with plans to lay thousands of miles of new track in the coming years.
The world's fastest passenger train is also in China, the Shanghai Maglev Train can reach speeds of over 430 kilometers per hour.
READ MORE:China opens 32 high-speed rail routes in grand expansion
Next stop, China?
In addition to Kazan, the TranSiberian railway already connects Beijing and other Chinese cities with Russia and Europe, and the Chinese reportedly recently proposed an idea to build a 2-day train from Moscow to Beijing via Kazakhstan.
"Chinese investors are willing to invest in the high-speed rail project between Moscow and Kazan, and Chinese builders can offer the most advanced high-speed railway technology. They are waiting for a decision from the Russian government," a representative from the High Speed Rail Lines, a subsidiary of Russian Railways, said at the meeting in Sochi.
According to the representative, the Moscow-Kazan project isn't just an investment for China, but a means to improve communication and trade with Russia and Europe.
Russian Railways is also considering a transport corridor that would link eastern Russia with the United states, via Alaska. This project has long been discussed and is called the Trans-Eurasian Belt Development high-speed link, but no official details have been released by the Russian transport giant.
In October 2014 Russia and China signed a memorandum of understanding over a high-speed railway connection.
You can share this story on social media: