China's rail giants may form $26bn conglomerate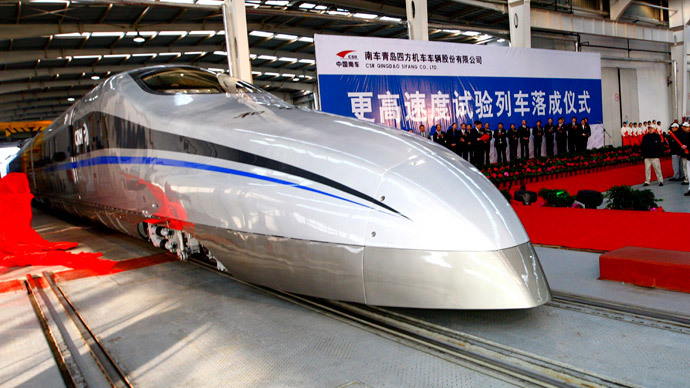 ​The two largest Chinese state-owned train makers CSR Corp and China CNR Corp are reportedly in merger talks that would create a new mega-company to compete in overseas markets with German, Canadian, and Japanese locomotive makers.
Details of the merger remain unclear, but a draft plan is in the works, both Bloomberg and Chinese media report, citing government officials. Together, the two companies have a market value of $26 billion.
A "major" announcement is expected within a week.
The merger would be aimed at reducing overseas competition between the two companies, which in turn should help them win more contracts and fulfill China's hungry appetite to export transport hardware.
China is home to the world's largest high-speed rail network, which keeps the growing population and economy connected. The two companies have won contracts worth over $7.2 billion (44.3 billion yuan) for 258 bullet trains within China, Bloomberg News reported.
The two are currently competing for a $68 billion project to supply bullet trains in California in the US. The 1,287 km track will run from Los Angeles to San Francisco and will require 95 trains.
Last week CNR announced it had won a $537 million (3.49 billion yuan) contract to supply 284 cars for Boston's metro, a first for any Chinese company in the US. CNR proposed the cheapest deal, which was almost half the tender price of Canadian transport giant Bombardier.
Both deals are milestones for the China rail industry, which is for the first time selling its rolling stock abroad and competing with the likes of Germany's Siemens, Canada's Bombardier, and Japan's Kawasaki.
Trading in shares of the two companies was suspended on Monday, spurring speculation that the two state-owned companies will announce the merger, the South China Morning Post reported.
Shares in both companies have jumped nearly 15 percent in Hong Kong in the last two weeks.
There was a similar merger rumor involving the two train makers in September that never came to fruition, which also halted trading. Both companies denied the merger plans in September.
You can share this story on social media: