China and Russia-led Eurasian Economic Union may set up free trade zone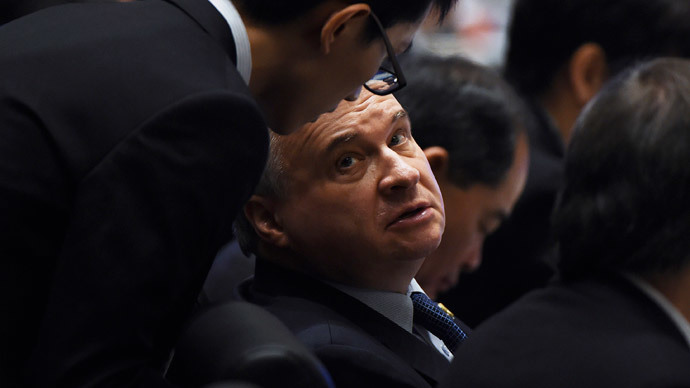 China may establish a free trade zone with the Eurasian Economic Union (EEU) in the future, says the Russian Ambassador to China Andrey Denisov. It would make trade with Russia, Belarus, Kazakhstan, Armenia, and soon Kyrgyzstan tariff-free.
"At first the Chinese were cautious about the Eurasian Trade Union; they just needed to make sure that it works. Now they are increasingly showing interest in participation with the union, not just with Kazakhstan, Belarus, Russia, Armenia, and Kyrgyzstan on an individual basis, but with the union per se," Denisov told RIA in an interview published on Monday.
As far as I know they [the Chinese – Ed.] offered us, the members of this Union –EEU – to think long-term about the creation of a free trade zone. Well, this is probably the case, even if it's far off in the future.
The Eurasian Economic Union includes Russia, Armenia, Belarus and Kazakhstan and was officially launched on January 1. Kyrgyzstan has said it will join, with accession expected by the end of May.
READ MORE: Russia, Belarus, Kazakhstan sign 'epoch' Eurasian Economic Union
The population of the union is about 171 million people, and its gross domestic product is expected to reach $3 trillion in 2015.
Russia has been ramping up its economic ties to China over the past year, more so after sanctions cut off trade and financing opportunities with the West.
China is Russia's second-biggest trading partner after the EU, and trade between the two was worth $95.3 billion in 2014, a 6.8 percent increase since 2013, but still short of the $100 billion goal.
China and Russia expect trade between the two neighbors to reach $200 billion by 2020. More than 80 percent of trade is natural resources like oil, iron, timber, machinery, and equipment.
A watershed in 2014 was the signing of a $400 billion gas deal, as well as starting work on the 'Power of Siberia' pipeline, which will deliver 3 trillion cubic meters of gas to China over 30 years.
Denisov said the high-speed rail links are "still just an idea," commenting on the report made on the Chinese version of Twitter in January that a train would connect Moscow and Beijing in just 48 hours.
READ MORE: Moscow to Beijing in 2 days: China to build $242bn high-speed railway
You can share this story on social media: