Russia and China can hit $200bn trade turnover before 2020 target – Deputy PM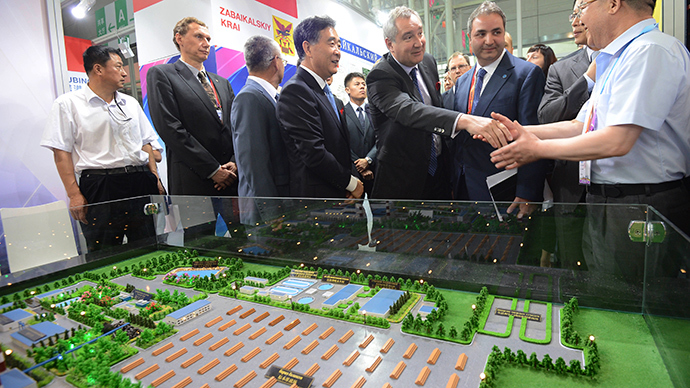 Fast-growing trade flowing between the two countries could speed up thanks to joint infrastructure and space tech projects, Russia's Deputy Prime Minister Dmitry Rogozin said during a first China-Russia Expo in Harbin.
"The aim of $200 billion annual turnover by 2020 has been set by our leaders," said the Russian politician, referencing a number touted by Vladimir Putin earlier this year.
"But if we follow the pace we have been going at, and join forces, primarily on large infrastructure projects, it is feasible to achieve this aim even earlier."
China is Russia's second-biggest trading partner, after the EU, and total trade between the two was nearly $89 billion last year, and could hit $100 billion by the end of 2014.
Traditionally, resource-hungry China imports oil and gas, timber and other raw materials from its northern neighbor, with consumer goods going the other way. The recently concluded record-breaking 30-year, $400 billion dollar deal to import Russian gas through a new pipeline – set to start operating by 2018- fits within that framework.
But Rogozin, visiting an expo that specifically highlights new directions for commercial co-operation, had his sights on more ambitious projects – melding Russia's space expertise with China's ambition.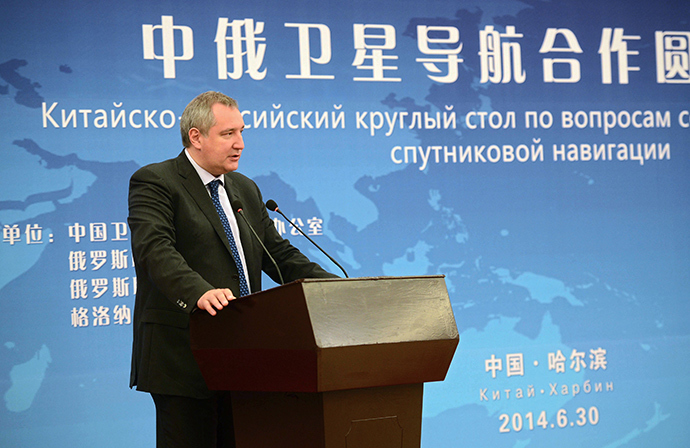 Among the more feasible projects is the integration of the two countries' partially-completed global positioning systems
"GLONASS and Beidou fit together well. Owing to the specifics of our systems and the location of satellites, we have no rivals in the Northern Hemisphere, especially in the northern latitudes," said Rogozin.
The politician said that in the medium-term, the two countries could create a fully-functional worldwide system "that is independent of any other" - presumably a rival to the US-owned GPS, which currently dominates the market.
Looking further into the future, Rogozin, who oversees Russia's space industry, mooted closer partnership with China's space program, which has its roots in Soviet-era technology and equipment.
"If we talk about manned space flights and exploration of outer space, as well as joint exploration of the solar system, primarily it is the Moon and Mars, we are ready to go forth with our Chinese friends, hand in hand," said the official, who has made a manned flight to Mars one of the banner aims of Russia's flagging space industry.
The China-Russia Exposition, a rebranding of a former international event that has been held for more than two decades, started on Monday, and is expected to result in up to $5 billion worth of deals by the time it concludes at the end of the week. As well as top political delegations from both Beijing and Moscow, more than 1,500 companies are vying for contracts at the Expo.
You can share this story on social media: