East, not West: Russia's top 5 trade partners in Asia
Geopolitics are changing fast, and the Ukraine crisis has brought Russia closer to its eastern neighbors. Russia has trillion dollar deals with the West, but may swap them for faster growing and bigger economies like India and China.
The West is likely to continue sanctions against Russia over its suspected involvement in Ukraine, and put further restrictions on the Russian economy, whether goods or services, thus shifting Russia towards Asian markets which are growing faster.
"It's a case of when you shut a door, another opens elsewhere. As far as sanctions are concerned, yes it will damage Russia temporarily, but then Russia will have to start looking elsewhere to sell the goods that it makes," David Duo, Market Analyst at The Motley Fool told RT.
A shift in the world's eighth largest country by GDP, and supplier of 12 percent of global energy will make ripples, even waves.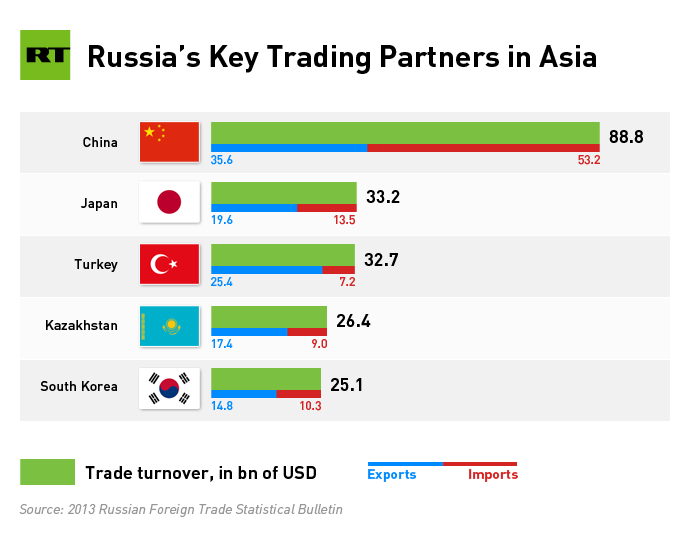 Russia's trade turnover with China is $88.8 billion per year, $33.2 billion with Japan, $32.7 billion with Turkey, $26.4 billion with Kazakhstan, and $25.1 billion with South Korea. Bilateral trade with China is set to reach $100 billion by 2015, according to Russia's Deputy Prime Minister Dmitry Rogozin.
Russia's ties with the EU remain strong, as member states account for about 50 percent of the total imports and exports, with trade turnover reaching over $330 billion in 2012. China's gross domestic product is catching up with the EU's $13 trillion economy. In 2013, China's GDP was $9.4 trillion. Russian President Vladimir Putin will visit China on May 19 before heading to the St. Petersburg International Economic Forum.
Trade with the US is nominal, just slightly more than Japan, as it was only $38.1 billion in 2014, according to US Chamber of Commerce Data.
Trade with India, though currently not in the top five, is about $15 billion per year, and by 2015 the Russian government hopes to boost it to $20 billion.
Russia and India have many areas of mutual cooperation, from IT and telecoms to pharmaceuticals and energy
"Pharmaceuticals are one very big area, and Indian companies can really encourage and support Russian companies to manufacture medicines. Similarly in India we welcome a lot of Russian companies that can support oil and natural gas and other petroleum products," Yaduvendra Mathur, of the Export-Import Bank of India, told RT.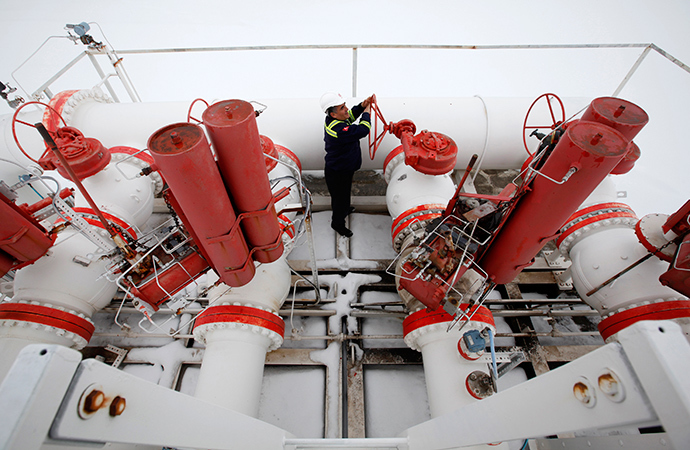 Oil and Natural Gas Corporation Limited (ONGC), an Indian multinational oil and gas company has a large presence in the Tomsk region of Russia.
Russia, which sits on the world's largest reserves of natural gas and oil, also has oil links with China, which is hoping to move away from its polluting and coal-dependent energy system.
"What does China want- clean energy, and that is something Russia can provide, so I think there is a ready-made relationship between the two countries," Duo told RT.
"It's always been a case of east versus West," Duo said.
In the next 25 years Russia will export more than 700 million tons of oil to China. Rosneft, Russia's state-owned oil company, has a 25 year $270 billion deal with China's National Petroleum Company.
Many Russian companies have made the first move and have begun to re-orientate their business towards booming eastern markets, and away from Europe and the US.
In Asia, Russia companies hope to either use the ruble or yuan to settle trades, to avoid dependence on the US dollar.
Russia's Economics Minister Aleksey Ulyukaev has expressed interest in increasing trade volumes in national currencies, especially when it comes to energy and gas. China, India, and Turkey could be prioritized as partners.
You can share this story on social media: