Egypt to join Russia-led Eurasian free trade zone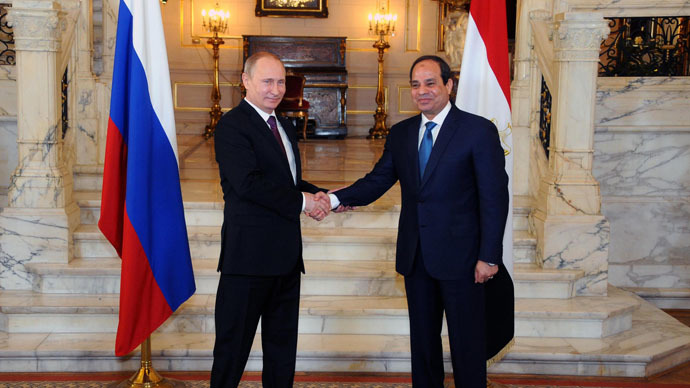 Egypt has established a free trade zone with the Russian-led Eurasian Economic Union, which includes Russia, Armenia, Belarus, and Kazakhstan, president Sisi of Egypt announced at a joint news conference with Russian President Vladimir Putin.
"We have reached an agreement to establish a free trade zone between Egypt and the Eurasian Economic Union," Egyptian President Abdel al-Sisi said.
There was more than $4.5 billion of trade between Russia and Egypt in 2014, a more than 80 percent increase on the year before, said President Putin.
Now it will be easier for Egyptian products to reach the markets of Russia, Belarus, Kazakhstan, and Armenia, and vice-versa.
READ MORE: Russia, Belarus, Kazakhstan sign 'epoch' Eurasian Economic Union
The possibility of setting up a free trade zone with Europe was discussed by Russia, Belarus and Kazakhstan last summer at a conference in Sochi.
The two countries also agreed to create a Russian industrial zone near the Suez Canal. Russian businesses have stakes in more than 400 Egyptian companies.
Russia and Egypt will work jointly on new investment projects, especially in transport, manufacturing, and energy – both oil and nuclear.
Lukoil, Russia's second largest oil company produces more than 16 percent of the oil coming from Egypt.
Russia will help Egypt develop nuclear power plants and train personnel to create a new nuclear power industry in the country.
READ MORE: Trade, tourism & dumping dollars: Putin building bridges in Egypt
Egypt also wants to boost profits from Russian tourists. The country's tourist sector suffered greatly due to a downgrade in security in the wake of the ouster of President Hosni Mubarak in 2011 and is currently struggling to win back foreign visitors.
In 2014, more than 3 million Russians traveled to Egypt for tourism despite the worsening economic situation in Russia.
You can share this story on social media: