Cyprus banks ready to be cut free from government support – Finance Ministry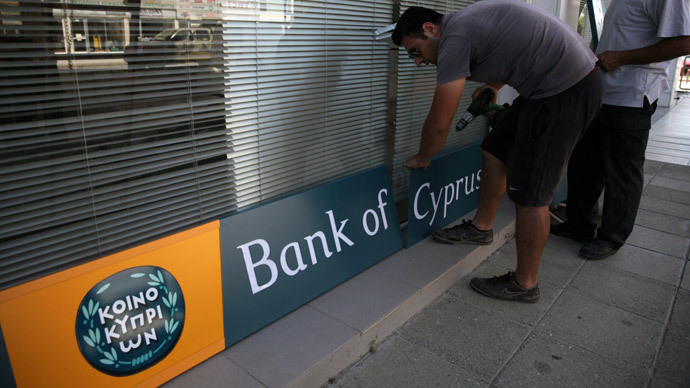 Less than two years after Cyprus stuck a €10 billion bailout deal to save its finance industry, banks will no longer require state support, the Finance Ministry said on Monday.
The announcement followed the European Central Bank's fourth and final stress test on big European banks before taking over as the supervisor of more than 123 banks.
The stress test, or Comprehensive Assessment, has that Cyprus' banking sector is much more stable than had been thought.
"We believe that the unprecedented scale of the Assessment, as regards the level of tests and the number of credit institutions participating, will strengthen the trust of the markets on the durability and soundness of the European banking systems in general, and the Cypriot credit institutions in particular," the document from the ministry said, as quoted by TASS.
Only one Cypriot bank failed the balance sheet audit. Hellenic Bank, the island's second biggest lender, was found to lack €176 million in capital needed to fend off another euro crisis. Since the beginning of the year it has raised €200 million, which means it doesn't have to submit a plan to the ECB in two weeks time.
The other leading banks; Bank of Cyprus, Central- Co-op, and RCB, a subsidiary of Russian VTB Group, all passed the test.
Bank of Cyprus and Co-Op both showed capital shortfalls at the end of 2013, but were able to raise enough capital in the meantime to not be marked as vulnerable.
Cyprus received a €10 billion ($12.7 billion) bailout in 2013 from Europe and the International Monetary Fund to re-capitalize its banks, which went bust due to their great exposure to Greek debt.
Before the bailout, depositors lost savings overnight, ATMs were shut down, and capital controls were introduced. Now bankers believe that crisis recovery is not far from reach.
"Actions taken by our banks over the past months led to a significant increase in capital, thus enhancing the resilience of the banking sector, as it is also confirmed by the analysis of the results," the Association of Cyprus Banks said.
On Sunday, the European Central Bank (ECB) gave an healthy prognosis to the majority of large banks in the eurozone in the "stress test" audit. Only 25 out of 123 failed the balance sheet test, none of which were outside the eurozone.