Final 'haircut': Cyprus to levy deposits by 47.5 percent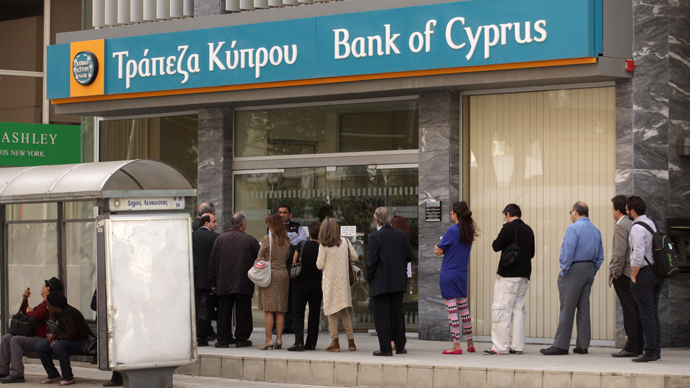 The 'Troika' of creditors have agreed the final deposit levy on Cypriot accounts will be 47.5 percent for shareholders, bondholders, and depositors with more than 100,000 euro in the two largest banks.
The levies placed on large depositors will be used as equity to recapitalize the bank, a decision reached in March as part of the bailout package. 
As a condition for receiving a $13 billion (10 billion euro) bailout package, Cyprus was forced by Troika lenders to sponsor a portion of their bailout, which they will raise by levying shareholders, bondholders, and depositors with more than 100,000 euro in accounts.

Previous exact loss estimates have ranged from 12.5 percent, later revised to 30 or 40 percent, and in April, 60 percent. Cyprus hopes to keep the deposit levy under 50 percent.

In addition, the Bank of Cyprus will be restructured under the Troika's watch, and the second largest bank, Laiki will be completely shut down, and losses will be compensated for depositors with less than 100,000 euros.

The 'bail-in', or the idea of having depositors, and not taxpayers, finance the bailout, was suggested by Troika lenders and embraced by Cypriot government officials facing heated protests.

In part, the idea gained popularity because Cyprus was a financial hot-spot for foreign investment. About 50 percent of deposits in the Bank of Cyprus belonged to non-EU residents, and much of the funds were suspected to belong to Russian oligarchs.
Russian Deputy Prime Minister Arkady Dvorkovich believes at one point there was over $30 billion in Russian holdings in Cyprus.

The Central Bank of Cyprus said domestic residents' deposits totaled 34.96 billion euro, down 2.56 billion euro compared to May 2013.

The Cyprus scenario marked the first time depositors were forced to contribute to the bank's bailout and now it is set to become the norm.
Cypriot Banks have weakened under the re-structuring period, and have been the source of negative credit ratings.

Both Moody's and Standard & Poor have downgraded Cyprus credit, warning the tiny island nation may soon default on its debt again. Moody's issued a statement in July that they had already technically defaulted again, as they delayed paying back 1 billion euro worth of bonds.

Together, the Bank of Cyprus and Laiki account for 80 percent of the banking sector in Cyprus. Hellenic Bank, formally the island's third largest bank, is now the island's biggest lender not under re-structuring.

By the end of 2013, the Bank of Cyprus plans to lay-off 2,500 workers, and close a number of its branches.

The future is bleak, too. The economy is forecast to shrink by more than 10 percent this year, up from the Troika's 8.7 percent estimate in March while sorting out bailout details. The economy is expected to retract by 2016.
You can share this story on social media: