Bank of Cyprus to cut up to 40% off deposits over €100,000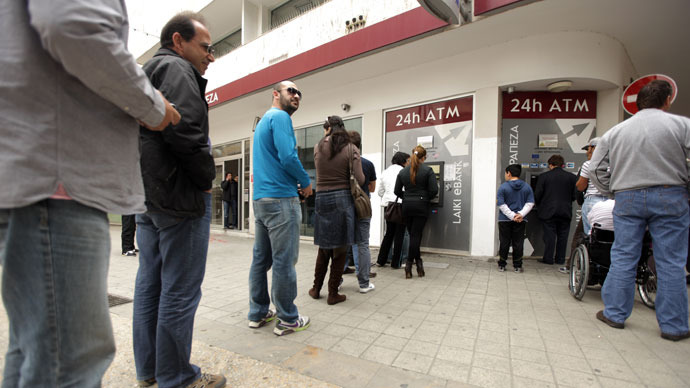 Depositors in the Bank of Cyprus, the biggest bank on the island, will reportedly lose from 30 to 40 per cent on their holdings above 100,000 euro as result of a bailout agreement which Cyprus and the troika of international backers signed on Monday.
Irish Radio is quoting the chairman of the Cypriot parliamentary finance committee, Nicholas Papadopoulos, who said that the levy of 30 per cent will be imposed on the deep-pocketed savers.

"I haven't heard a formal announcement about the haircut, but this is the figure I heard," he said.

Bloomberg reports an even bigger figure as it refers to two EU officials, who claimed that the losses would be no more than 40 per cent on uninsured depositors at the Bank of Cyprus.

At dawn on Monday, Cyprus and the troika of international backers (EU, ECB, IMF) reached agreement on a €10bn bailout plan, aimed at preventing the bankruptcy of the island's financial system and the country's exit from the Eurozone.
Under the plan the depositors in Bank of Cyprus will be compensated with equity in the bank, while Laiki Bank, which is the island's second largest financial institution, will be closed down.
Those with deposits under 100,000 euros in both banks will continue to enjoy the protection of the state's guarantees, after an earlier proposal to impose a 6.75% tax on them provoked anger.
"The result that was found is right,'' German Chancellor Angela Merkel said. "It also makes those who helped cause these undesirable developments play their part. That is how it should be."
Germany has long insisted Cypriot banks, which attracted foreign investors with high interest rates, needed to contribute to the bailout.
"I think that a fair sharing of the burden was achieved,'' she said. "On one hand, the banks have to take responsibility for themselves. That is what we have always said: we do not want taxpayers to have to rescue banks, we want banks to rescue themselves."
It will help "stabilize the situation in Cyprus and help Cyprus back onto a path of sustainable consolidation. I think the solution can help win back lost confidence for and in Cyprus," German Finance Minister Wolfgang Schaeuble told a news conference after the 11th-hour talks ended with a deal.
"It is the best path possible even if it isn't an easy one."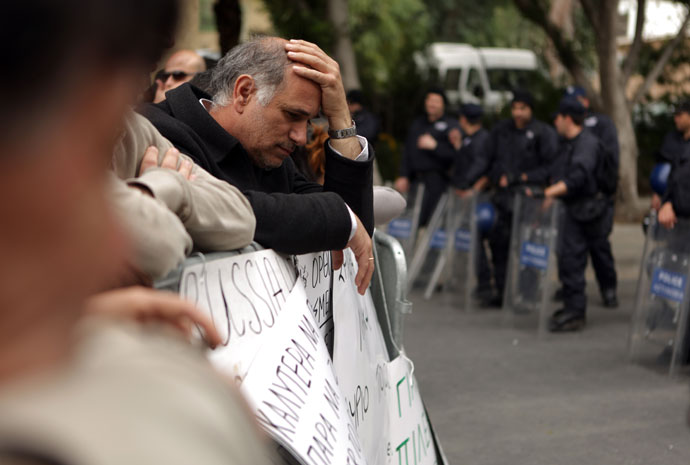 Russia doesn't appear so optimistic.
"I think they continue stealing what's already been stolen. We need to understand what this story will finally lead to," Russian Prime Minister Dmitry Medvedev commented on the move during a meeting with his aides on Monday.
Despite the deal Cyprus will remain at risk of default and a Eurozone exit for a "prolonged period," believes Moody's senior credit officer Sarah Carlson.
"The system's profile as an offshore financial center is unlikely to survive this crisis," Carlson added. "The potentially irreparable damage to the country's current drivers of economic growth leaves its ability to sustain its current debt highly in doubt."
Growth and stability are a thing of the past for Cyprus according to Steen Jakobsen, Chief Economist at Saxo Bank, who told RT Business that only gloom lies ahead.
"Unfortunately I think it's unlikely Cyprus gets back to the same momentum of growth and stability they have seen over last 20 years because if you want to take a banking system down to the European average, you have to remember that 60% of all export come from services rented, meaning basically banking services. You have an economy that's wholly depending on foreign investment to the country, so they need to find a new basis money in order to restart themselves. Of course they will do that, but this will come with huge amount of pain both in terms of social fabric, but most certainly also in terms of capital investment in Cyprus."
Cyprus' financial turmoil has shown how the European Union is still powerless to tackle the crisis raging across the Eurozone, five years after it first gripped the bloc, Jakobsen said.
"The main lesson, if I may, from these weeks debacle is the following – it's the first time we are seeing the senior bondholders being bailed in, it's the first time we are seeing deposit holders over €100,000 being bailed in and most importantly we now have capital controls in Cyprus. This means €1 in Cyprus is no longer the same as €1 in Paris or in Berlin, because in Paris or in Berlin you can actually move the money around, whereas in Cyprus it needs to be standing still at the island and I think that's a very dangerous road we have gone down. I think EU as an overall institute has shown to have no remedies for crisis, they have no ways to control the imperilment of banks in the system and this is pretty sad, concerning we are five years into this crisis and we are pretty much back to square one in terms of having banks who are undercapitalized not only in Cyprus, but across a number of other countries."

You can share this story on social media: