Cyprus, Troika agree to 20% tax on deposits over 100,000 euros at Bank of Cyprus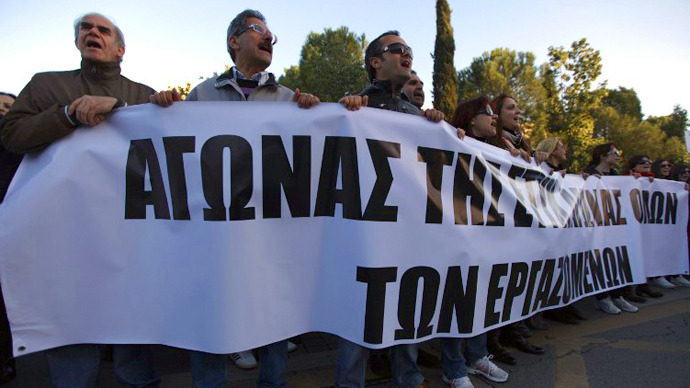 Cyprus and the Troika have agreed to a 20 per cent tax on deposits over 100,000 euros at the Bank of Cyprus and 4 per cent on deposits held at other banks.
A senior Cypriot official told Reuters that a plan to tap nationalized pension funds would not be a part of a plan to raise billions of euros in return for a bailout from the European Union. Cyprus said earlier on Saturday that it was looking at seizing a quarter of the value of big deposits at its largest bank in order to raise such funds.
"Unfortunately, the events of recent days have led to a situation where there are no longer any optimal solutions available. Today, there are only hard choices left," European Union Economic and Monetary Affairs Commissioner Olli Rehn said in a statement.
Cyprus is scrambling to come up with €5.8 billion by Monday, or face being kicked out of the Eurozone. The cash is a prerequisite for a further €10 billion in bailout funds.
Lawmakers' rejection of a previous proposal to tax all bank deposits prompted the European Central Bank to threaten to cut off emergency funding to Cypriot banks unless a deal was reached by March 25. Banks have been shut all week, and are due to reopen on March 26.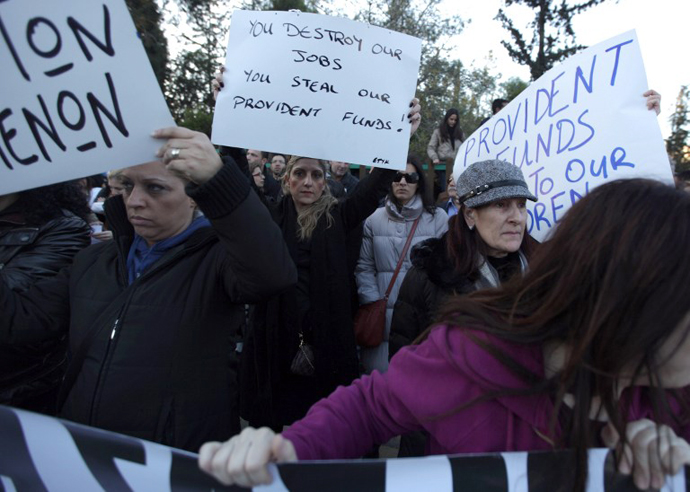 Earlier on Saturday, at least 1,000 bank workers in Cyprus hit the streets of the country's capital of Nicosia. The demonstrators marched against the latest bailout measures taken by the country's central bank.
"You destroy our work and steal our pensions," demonstrators chanted as they marched to the Cypriot Parliament. One protester held a banner which read, "Hands off pension funds."
All ages were present at the demonstration, with many parents pushing their children down the street in strollers.
"I've been working for 20 years and I've paid all the taxes of all my pension contributions and every Euro. Now I run the risk of losing my job and my pension, and I will have no money to support my children," Cyprus Popular Bank employee Angela Panayotou said, as quoted by Ria Novosti.
Panayotou, who brought her five children along to the rally, says she believes plans to split the Cyprus Popular Bank in two to be a political move.
"We are convinced that the bank is viable, and it there's no need to close it," she said.
The Cypriot parliament has adopted a new bailout plan which is comprised of nine laws about the recovery of the country's financial system. One of the laws gives the Cypriot Central Bank special authorities due to concerns the financial system may collapse.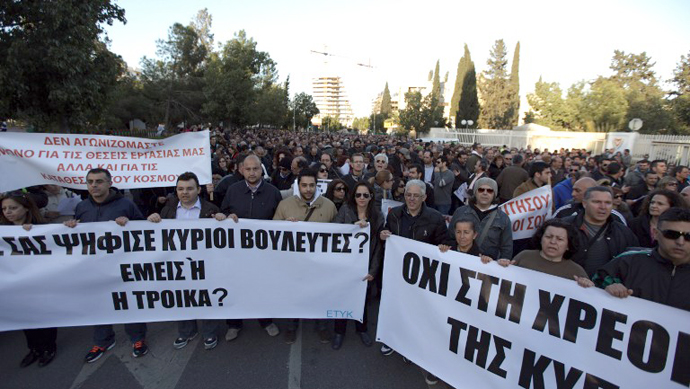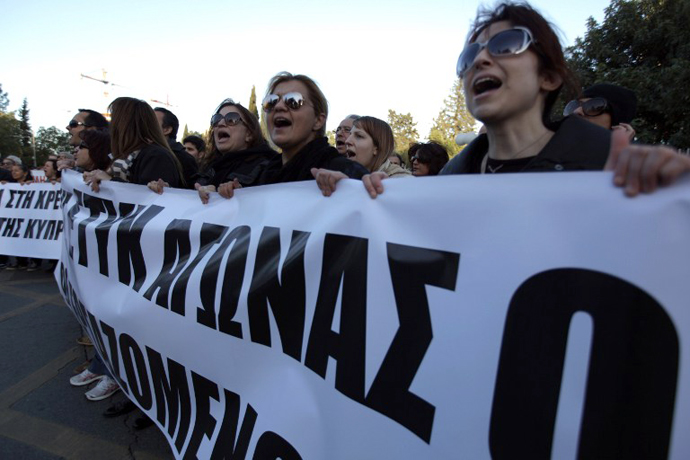 You can share this story on social media: