Cyprus imposes ATM withdrawal limit of €100 per day for island's two largest banks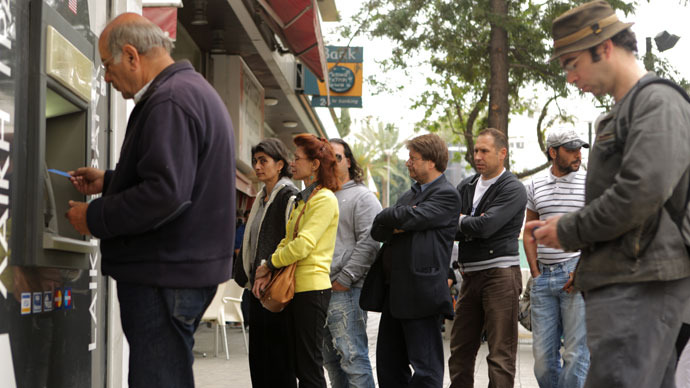 The central bank in Cyprus has imposed an ATM withdrawal limit of 100 euros per day for the island's two biggest banks, in order to prevent a run on lenders.
A spokesman for the country's second largest lender, Cyprus Popular Bank, told Reuters that the new measure began at 1pm local time (11am GMT) and would remain in place until the bank reopens, or until confirmation of continued emergency funding from the European Central Bank. Cyprus Popular Bank had previously limited withdrawals to 260 euros per day.
A government official said the restriction also applied to the Bank of Cyprus.

It was initially reported that the measure was implemented on all banks in Cyprus, although it has now been confirmed that only the island's two biggest banks have been affected.

The news comes after Cypriot President Nicos Anastasiades took part in last-minute crisis talks with international lenders on Sunday, in an attempt to save the country from financial meltdown. The negotiations in Nicosia to seal a bailout from the EU and International Monetary Fund failed to reach a solution. 
Anastasiades then headed to Brussels to hold talks with EU, European Central Bank and IMF leaders ahead of a crunch meeting of eurozone finance ministers.
Government spokesman Christos Stylianides said in a statement on Sunday that Anastasiades and his team have a "very difficult task to accomplish to save the Cypriot economy and avert a disorderly default if there is no final agreement on a loan accord."

The news comes just one day after Cyprus and the Troika agreed to a 20 per cent tax on deposits over 100,000 euros at the Bank of Cyprus and 4 per cent on deposits held at other banks.
"Unfortunately, the events of recent days have led to a situation where there are no longer any optimal solutions available. Today, there are only hard choices left," European Union Economic and Monetary Affairs Commissioner Olli Rehn said in a Saturday statement.
Cyprus is scrambling to come up with €5.8 billion by Monday, or face being kicked out of the Eurozone. The cash is a prerequisite for a further €10 billion in bailout funds.
Lawmakers' rejection of a previous proposal to tax all bank deposits prompted the European Central Bank to threaten to cut off emergency funding to Cypriot banks unless a deal was reached by March 25. Banks have been shut all week, and are due to reopen on March 26.
On Saturday, at least 1,000 bank workers in Cyprus hit the streets of the country's capital of Nicosia. The demonstrators marched against the latest bailout measures taken by the country's central bank.
Protesters carried banners that read, "Hands off provident funds" and "No to the bankruptcy of Cyprus."
Turkey sends 'stern warning' to Cyprus over gas reserves
Meanwhile, Turkey has warned Greek Cyprus against using hydrocarbon reserves off the island to overcome its debt crisis without the consent of Turkish Cypriots. Ankara says such a move could result in an end to efforts to reunite Cyprus' Turkish and Greek zones.
Turkey has contacted the US and plans to take the issue to the European Union, Today's Zaman reported.
Ankara "had to issue a stern warning" regarding attempts to offer natural resources in exchange for foreign loans, a Turkish official said on Sunday.
Turkey has repeatedly warned the Greek Cypriot government against unilateral moves to extract natural gas and oil reserves off Cyprus, saying that Turkish Cypriots also have a say on the reserves.
The dispute recently escalated when reports surfaced that hydrocarbon exploration rights were part of Russia-Greek Cyprus talks last week over a possible deal which includes Russian financial help. However, the talks did not produce an agreement.
Russian Prime Minister Dmitry Medvedev expressed doubt on the inclusion of hydrocarbon reserves as a loan deal, saying there are concerns surrounding commercial viability and questions stemming from Turkish objections.
You can share this story on social media: