Cyprus 'defaulted' on debt – Moody's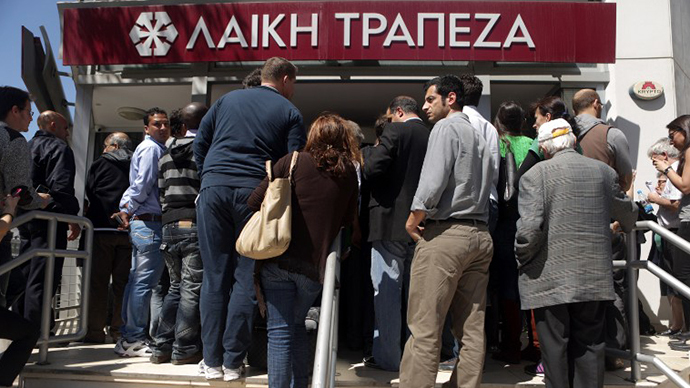 The ratings agency says it considers Cyprus has technically 'defaulted' after the country announced a delay in paying back bonds worth 1 billion euros.
The downgrade, although Moody's doesn't technically have a default rating, was issued after Cyprus said it would delay the bonds and go ahead with a bond swap default strategy.
Cypriot authorities said they will swap government bonds maturing in 2013 through to the first quarter of 2016 with new debt that matures at between five and 10 years.
The bond swap is a 'distressed exchange', and therefore, a debt default. Because the amount exchanged is less than the original deal, and Cyprus is allowed to avoid payment on the bonds.
Cyprus' biggest banks are the largest holders of Greek bonds, which became 'bad' and 'distressed' following the Greece financial crisis, which left Cypriot banks with big debts.
67 percent of outstanding amounts were subject to the swap.
Moody's said the exchange of Cyprus government bonds for new ones with a longer maturity level means the financial commitment of Cyprus to the holders of the bonds will decline.
Moody's statement on Monday came after Standard & Poor's downgraded Cyprus to 'selective default' and Fitch downgraded the rating to 'restricted default' because of the debt exchange.
Other factors, including the likelihood that Cyprus will comply with the rest of the measures spelled out in its bailout agreement with the International Monetary Fund, the European Central Bank and the European Union, will be taken into consideration as well.
The island's sovereign credit rating was downgraded from B3 to Caa3, or junk status, in April, shortly after the country's accruement of 10 billion euros in loans from European lenders.
Economic activity on the island remains dormant, unemployment high, and bank deposits have dispersed since the deal.
In exchange, the financial center agreed to cut spending and restructure its banking system.
Moody's say it will reissue a credit rating for Cyprus 'in due course' in which they will reassess the impact of the bond exchange on the Cypriot economy.
The next credit rating will also closely look at Cyprus's ability to carry out compliance measures under its lenders as well as potential growth prospects.
Cyprus' bailout problems are heavily tied to Greece as Cyprus' biggest banks are the largest holders of Greek bonds. Greece had huge financial problems which has left Cyprus' banks with big debts.
You can share this story on social media: