US, EU businesses oppose Russia sanctions but can't say it- Medvedev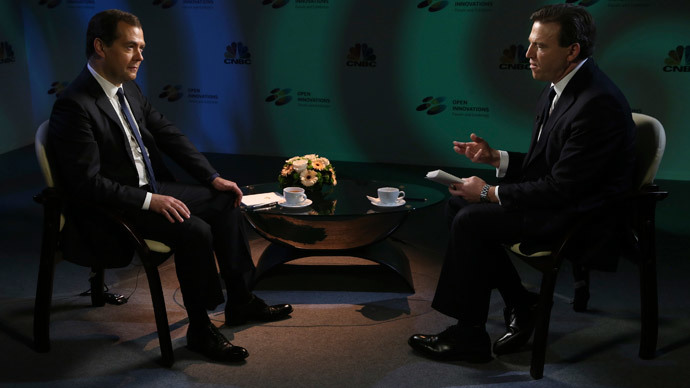 European and US businesses are "categorically" against Russian sanctions because they act against their commercial interests, but can't say so freely, Russian Prime Minister Dmitry Medvedev has said.
"I'm absolutely certain that European businesses are categorically against this because it's contrary to their interests," the Prime Minister said in an interview with CNBC aired Wednesday.
"I've also talked with US business representatives. Naturally, they also say that they are opposed. They whisper: 'Well, you know that this is the decision of the government and we have to comply, but we consider it completely destructive'," he said.
In September, a Moscow-based European business lobby group, the AEB, wrote a letter to EU and Russian governments asking for business ties to be kept functional.
"Businessmen from the US are also opposed to the sanctions, but cannot come out in the open," Medvedev continued.
On Tuesday, Russian Foreign Minister Sergey Lavrov issued a similar statement, and said the European Union may face a €40 billion loss this year due to sanctions.
"We are pragmatic people, and I believe that everyone should be aware of this, including our partners such as President Obama, Chancellor Merkel, and any others," Medvedev added.
READ MORE: EU risks €40bn hemorrhage from Russia sanctions in 2014 – Foreign Minister
Medvedev went on to say that sanctions have never been constructive.
"Let's recall a little history. When sanctions were imposed on the Soviet Union in 1925, we could not pay with gold for various imported products but we survived somehow," he said.
Dmitry Medvedev gave the example of how sanctions were imposed on the USSR in 1948 after the allied victory in World War II. The economic sanctions lasted more than 50 years and restricted exports to the Soviet Union.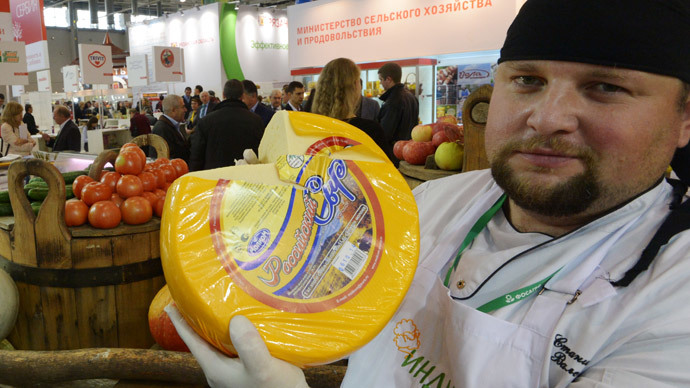 "But the country continued developing nonetheless," Medvedev said and added, "There were attempts to introduce sanctions in the 1990s but with zero result."
Throughout the Cold War era the US imposed sanctions and embargoes against China, North Korea, Vietnam, and Iran.
"Have sanctions on Iran produced any result? I don't think they've had a serious impact. Sanctions on the People's Republic of China were adopted after the political events of 1989. I believe China went on to substantially speed up economic development. It's time to return to reality," the Prime Minister said.
The Kremlin and White House tit-for-tat sanctions have been escalating since March, when Crimea voted to rejoin Russia.
The US and EU have introduced several waves of sanctions against Russian politicians and businessmen, and some of their assets, as well as major banks, oil, and defense companies. The latest round came into effect on September 12.
READ MORE: Who is hit hardest by Russia's trade ban?
In response, Russia introduced protective measures over food supplies on August 7. The Kremlin hasn't announced any further countermeasures yet, but there have been reports it will block more imports from entering the country.
In the interview, Medvedev said that Russia will find new partners to fill the gaps left by sanctions, both in trade and investment.
"If some of our projects with Europe, America or others are put on ice, I'm not talking about the reasons behind this, we logically move these projects to other destinations," he said.
You can share this story on social media: