​EU to give Ukraine another €8bn to help reform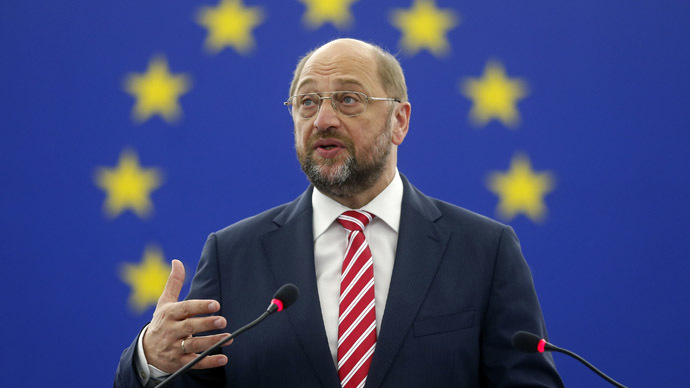 The European Union is to provide Ukraine with €8 billion to carry out reforms, the President of the European Parliament Martin Schulz said Friday.
"We are convinced that this Agreement (EU - Ukraine Association Agreement) will promote further economic growth and modernization of the Ukrainian economy. Eight billion euro will be transferred to Ukraine to stabilize the economy. But this support is not unconditional. It is based on the expectation that the country will continue to follow the path of reformation," RBC quotes Schultz.
The required reforms would include electoral law, a comprehensive constitutional reform, elimination of corruption, and the respect of human rights and minority rights, Schultz explained.
In turn Aleksey Ulyukayev, the Russian Minister of Economic Development said that if Ukraine proceeds with the EU Association Agreement as of November 1, Russia will respond with the introduction of import tariffs on Ukrainian goods.
The EU is currently ready to administer some 760 million euros ($985 million) worth of aid in the firm of direct loans over the course of the following month, European Commission President Jose Manuel Barroso said Friday.
"Six hundred million euros have already been disbursed and 760 million euros can be disbursed in the next month, provided some of the conditions are met, notably economic reforms and the fight against corruption," he said in a text of a speech seen by Reuters on Friday.
The new package comes at a time when Ukraine's economy is balancing on the brink of default.
In the second quarter 2014, the country's GDP contracted 4.7 percent, which was 4 times greater than in the previous year, according to the Ukrainian State Statistics Service. During all of 2014, Ukraine's economy is expected to shrink 6-6.5 percent, with inflation accelerating to 19 percent, Finance Minister Alexander Shlapak has said.
Since the beginning of the year the Ukrainian currency the hryvnia has lost more than 60 percent against the dollar. On top of that, the country's depleted foreign reserves are expected to drop down to $16.2 billion by the end of 2014, according to Bloomberg data.
However, even despite €8 billion from the European Union, it won't be enough to recover the Ukrainian economy. Kiev will need an extra $19 billion in external financing by the end of 2015, the International Monetary Fund estimates.
You can share this story on social media: