Putin: Arctic shelf development 'major task' for oil and gas sector
Arctic shelf development is among the major challenges facing the Russian oil and gas sector, according to President Putin, who addressed industry workers on Sunday.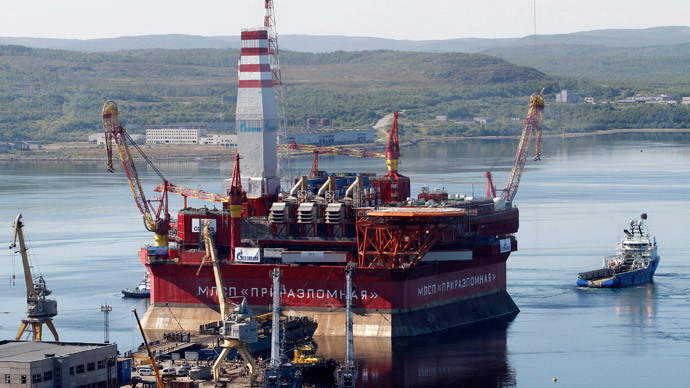 "Today, oil and gas industry workers face a number of important tasks," Putin said in his address.

"Among them are the diversification of export flows, the development of promising new fields, the creation of modern clusters for processing and transportation of raw materials, the large-scale programs of the Arctic shelf development, the introduction of high-tech equipment and high environmental standards."

Vladimir Putin said last week that Russia was determined to defend its interests in the Arctic, and will do so "within the framework of international law."

A Soviet-era military base in the Arctic is being revived as part of the plan.

READ MORE: Russian Navy sends flotilla to Arctic to start permanent service at military base

Canada has been worried by Russia's efforts in the region and the country's foreign minister, John Baird, told a Danish newspaper that Ottawa was ready for a confrontation with Moscow if it expanded its ambitions in the Arctic region.

Russia's Foreign Minister Sergey Lavrov responded by assuring that Moscow did not want "the Arctic to become an arena of conflict."

Sanctions, imposed on Russia by the EU and the US at the beginning of August, restrict the export of equipment used for offshore oil production, including equipment needed for drilling in the Arctic.

However, the limitations have had little effect on Russian projects in the Arctic so far. Contracts had been signed and drilling equipment obtained before any sanctions came into force.

US oil giant ExxonMobil confirmed a month ago it would still continue joint exploitation of the Arctic with Russia's biggest oil-producer Rosneft, despite the sanctions.

READ MORE: ExxonMobil, Rosneft start joint Arctic drilling in defiance of sanctions

That has not been the only signal of foreign businesses still inclined to cooperate with Russia, despite political tensions.

In late August, Rosneft agreed to purchase a stake in Norway's North Atlantic Drilling (NADL) through an asset swap.

The Norwegian company will also help Russia with drilling in the Arctic. Under the pre-sanctions, July 2014 agreement, NADL will provide Rosneft with six sea drilling units over a period culminating in 2022 to conduct shelf drilling in harsh weather conditions.
You can share this story on social media: